You are here
Cell Care supports cord blood research in Australia and Canada
January 2019
This month's company profile looks at the Cell Care Group, an international provider of private and public cord blood banking and an investor in cord blood expansion technology.
The international headquarters of the Cell Care Group is in Melbourne, Australia, where they operate the only Australian family cord blood bank. Cell Care entered Canada by acquiring the country's two largest family cord blood banks, Insception Lifebank in 2016 and Cells for Life In 2017. Cell Care Group has also assumed the operation of the Victoria Angel public bank. The combined inventory of cord blood units stored by Cell Care is now over 150,000. In Oct. 2018, Cell Care announced that CHAMP Private Equity acquired a controlling stake in the Group to further their growth trajectory.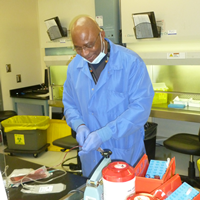 Cell Care has endeavored to differentiate its market position by sustaining a significant investment in research and clinical trials that are advancing therapeutic applications of cord blood and tissue.
Perhaps most exciting is the company's active investment in cord blood expansion technologies. Cell Care was an early investor in Nohla Therapeutics, and more recently became a strategic investor in Montréal-based ExCellThera. First results of clinical studies with the ExCellThera product, ECT-001, were reported at the ASH meeting in Dec. 2018. The expanded cord blood product from ExCellThera was able to match its competitors in patient engraftment and survival, with no serious graft versus host disease, and can be manufactured faster and at lower cost. Cell Care CEO Brent Dennison has suggested that ExCellThera has what is arguably the best expansion technology that the cord blood industry has seen yet.
In Australia, Cell Care is supporting two clinical trials that employ cord blood in different areas of regenerative medicine. The company is partnering with The Children's Hospital at Westmead, New South Wales, in the Cord Reinfusion in Diabetes pilot study. This world–first clinical trial is investigating the potential of cord blood to prevent or delay the onset of type 1 diabetes (T1D) in children at high risk of developing the disease1.
Together with the Cerebral Palsy Alliance, Cell Care is also supporting Australia's first clinical trial using sibling umbilical blood infusion for cerebral palsy2. This safety study, led by the Murdoch Children's Research Institute (MCRI) and taking place at the Royal Children's Hospital in Melbourne, aims to determine whether sibling cord blood infusion is both safe and effective for children with cerebral palsy.
At the pre-clinical level, Cell Care is working with the Hudson Institute of Medical Research and the CSIRO to investigate the use of expanded cord blood for treatment of vascular and neurological indications. The Group's investment in ExCellThera expansion technology is perceived as synergistic to this research on regenerative medicine with expanded cord blood. In addition, the Group has a research collaboration with Dr. Ian Rogers of the Lunenfeld-Tanenbaum Research Institute at Mt. Sinai Hospital in Toronto on the topic of iPSCs (induced pluripotent stem cells).
In Canada as a whole, the penetration of cord blood banking sits at approximately 2% of all births, with five family banks and three public banks operating in Canada.
The Greater Toronto Area (GTA) has the greatest concentration of population, births, and hospitals in Canada, and the province of Ontario accounts for 40% of all births. Cell Care has maintained both the Insception Lifebank and Cells for Life family bank brands in Canada, even though all collections are now processed in a single Toronto laboratory, with the prices and product offerings of the two brands aligned. Frank Cashen, the General Manager of the company's Canadian operations, says this decision was made due to the strong brand equity that the two brands have established in different geographic and hospital locations. The brands have long-standing partnerships with key hospitals in Ontario, and the penetration of cord blood banking at partner hospitals is much higher than the national baseline. This demonstrates the importance of hospital partnerships to ensure that expectant mothers receive education about both private and public cord blood banking.
The acquisition of Victoria Angel represents Cell Care's first foray into public cord blood banking. Victoria Angel was established in 2005 to fulfill the need for public cord blood banking in Canada, well before the national public bank was established. Mr. Cashen pointed out that the existence of a donation option gives balance to the banking options offered to expectant parents through the hospital partnerships. At present, Victoria Angel supports the research of Dr. Donna Wall at The Hospital for Sick Children ("Sick Kids") in Toronto via the donation of cord blood samples that don't meet public banking criteria.
CEO Brent Dennison believes there are still many opportunities for the Cell Care group to expand their services to more countries and increase the company's value to expectant parents by offering new services related to childbirth and healthy families.
References
Type 1 Diabetes Trial: https://www.anzctr.org.au/Trial/Registration/TrialReview.aspx?id=363694
Cerebral Palsy Trial: https://clinicaltrials.gov/ct2/show/NCT03087110