You are here
Clinical Trials of Expanded Cord Blood
May 2018
When we talk about trials with "expanded cord blood" we are describing a field that falls within advanced cell therapy. In advanced cell therapy, the cord blood cells are either isolated or modified for immunotherapy, or they are performing (a non-homologous action) regenerative medicine. Standard cord blood transplants are not advanced cell therapy because the action of the cord blood cells is homologous.
Many researchers are isolating specific cell populations from cord blood and expanding them ex vivo prior to therapy. Our database at CellTrials.org shows that, over the five years 2013-2017, there was an average of 20 clinical trials per year with cells expanded from cord blood. Many of these technology platforms have resulted in named products that are seeking regulatory approval.
The table below attempts to give an overview of the expanded cord blood products that are currently in clinical trials. Below the table we will review the major sponsors of trials in this arena.
Cord Blood Product / Developer

Indication

Brief Description of Product

NiCord® &
CordIn™ / Gamida Cell

HSCT engraftment,
both Hematologic Malignancies &
Hemoglobinopathies

Cord blood CD133+ cells cultured for 3 weeks with the small molecule nicotinamide.1,2

NLA101 / Nohla Therapeutics

HSCT engraftment,
Radiation sickness,
Neutropenia,

Cord blood CD34+ cells cultured for 2 weeks with recombinant engineered Notch-ligand.3,4

Cord blood cultured with MSC / M.D. Anderson

HSCT engraftment

Cord blood cells are co-cultured with BM-MSC for 2 weeks to mimic the bone marrow environment5

Fucosylation / M.D. Anderson

HSCT engraftment

Cord blood cells incubated 30 minutes with a sugar that modifies proteins on the cell surface6

SR-1 / U. Minnesota,
Novartis /
Magenta

HSCT engraftment

Cord blood CD34+ cells cultured for 15 days with StemRegenin-1 7

ECT-001 / ExCellThera

HSCT engraftment

Cord blood CD34+ cells cultured for 1 week with UM171, which activates HSC to self-renew8,9

AB-110 / Angiocrine Bioscience

HSCT engraftment

Cord blood cells are grown and mixed with genetically modified vascular endothelial cells10

NK cells / M.D. Anderson,
Celularity

Hematologic Malignancies

Natural Killer Cells11,12 can be derived from cord blood NK or cord blood CD34+

CIK / 105th PLA Hosp.,
Alliancells-PuRui

Solid tumors

Cytokine-induced Killer Cells13

CTL / Children's Research Inst.

Viral infections

Expansion (minimum 30 days) of virus-specific Cytotoxic T Lymphocytes (CTL) from the donor can protect the patient against infection14

T-regs / Second Xiangya Hospital

Organ Transplant,
Diabetes

Regulatory T-cells (T-regs) from a transplant donor naturally inhibit GvHD15

DUOC-01 / Duke University

Brain Injury

Cord blood CD14+ cells similar to oligodendrocytes cultured for 3 weeks may protect against demyelinating disease16

Pneumostem®
Neurostem® / Medipost

Brain Injury

Expanded MSC derived from cord blood17,18

Furestem® / Kang Stem Biotech

Auto-Immune Disorders

Expanded MSC derived from cord blood19
M.D. Anderson Cancer Center has the widest array of research on the use of expanded cord blood for hematologic malignancies. They are developing multiple methods of cord blood expansion, and have had over a dozen clinical trials either alone or with collaborators. Researchers at M.D. Anderson, led by E.J. Shpall, have worked to speed up cord blood engraftment by culturing cord blood cells with MSC5 or through the process of fucosylation6. Under the leadership of Katy Rezvani, M.D. Anderson has run over a half dozen trials with NK cells11 expanded from cord blood. In addition, M.D. Anderson has run clinical trials with cord blood cells that were modified by Chimeric Antigen Receptors (CAR immunotherapy).
Gamida Cell is the highest achiever in the use of expanded cord blood for hematologic malignancies, as the only sponsor to have run a phase 3 trial, and even follow-up trials. The technology platform at Gamida Cell is the incubation of cord blood cells together with the molecule nicotinamide1,2, and the resulting product is called NiCord® when it is used for hematologic malignancies or CordIn™ when it used for hemoglobinopathies such as sickle cell disease or thalassemia. Gamida's flagship product NiCord has received the FDA's Breakthrough Therapy Designation (the first for a stem cell transplant protocol) and also has Orphan Drug status with both the FDA and the EMA. In the United States trials of NiCord have been led by Mitchell Horwitz of Duke University.
Nohla Therapeutics, whose name is an acronym for "NO HLA", also has a flagship product NLA1013,4 that, like NiCord, was developed to speed the engraftment of cord blood transplants to about 11 days. However, unlike NiCord, NLA101 aspires to be a universal donor product that can be given with NO HLA matching. This will hopefully allow NLA101 to be used as an off-the-shelf rescue for radiation sickness, or as a routine therapy to treat neutropenia during cancer therapy. The lead investigator behind NLA101 is Colleen Delaney, starting at the Fred Hutchinson Cancer Center and continuing at Nohla Therapeutics.
The next strongest contender in the race to speed engraftment is a group of products that culture cord blood together with StemRegenin-1 (SR-1)7. This method was originally developed at the University of Minnesota by John Wagner, then acquired by Novartis under the name HSC835, and recently licensed to the start-up Magenta Therapeutics as product MGTA-456. Regardless of name, the SR-1 product produces a 200-300 fold expansion of CD34+ cells and appears to yield a durable engraftment like NiCord.
While the previously named products (NiCord, NLA 101, and SR-1) all have clinical trial records that go back 7-12 years, new contenders continue to enter the competition to improve cord blood engraftment. One is ECT-001, developed by Sandra Cohen at ExCellThera in Canada8,9. A key advantage of ECT-001 is that it only requires one week of culture with the small molecule UM171. Another contender is Angiocrine Bioscience, a company that has a technology platform based on the concept that stem cells and vascular endothelial cells together form the "vascular niche" in every organ of the body10. Angiocrine Bioscience has received CIRM funding for its product AB-110 that combines expanded cord blood with genetically modified vascular endothelial cells.
Research into Natural Killer cells (NK cells) expanded from cord blood deserves further mention because these cells are normal components of the immune system that do not require stimulation or genetic modification to fight cancer11, although CAR-modification can be added to NK cells to enhance their targeted function. It is believed that NK do not persist long-term in patients, which makes them very attractive as a potential universal donor product that can be given off-the-shelf.
Cytokine-induced Killer Cells (CIK cells) are similar to NK cells in their phenotype and behavior13, but so far are primarily popular with researchers in China, both in academia and at biotech companies.
Cytotoxic T Lymphocytes (CTL cells) usually refers to virus-specific T-cells. When given after a cord blood transplant, they can help protect the patient against viral infections such as CMV, EBV, and Adenovirus14. The lead investigator using CTL from cord blood is Catherine Bollard of the Children's Research Institute.
Regulatory T-cells (T-regs) are under research for induction of tolerance after solid organ transplant, for auto-immune disorders, and in the treatment of diabetes15. So far clinical trials with T-regs from cord blood have only been conducted in China.
The DUOC-01 cells developed by Joanne Kurtzberg at Duke University are similar to oligodendrocytes and are believed to improve the outcome of cord blood cell therapy for degenerative neurologic conditions16. A recruiting trial is testing DUOC-01 on patients with inborn errors of metabolism who have evidence of early demyelinating disease in the central nervous system.
The giant in this space that most Westerners overlook is the company Medipost from South Korea. The technology platform of Medipost is to expand mesenchymal cells derived from cord blood, and they have sponsored over a dozen trials of their products within the past decade. The Medipost product Cartistem® for the treatment of knee cartilage defects in patients with osteoarthritis was the world's first cord blood cell product to receive national regulatory approval17. Medipost has run six trials of their product Pneumostem® for the treatment bronchopulmonary dysplasia18, and has FDA Orphan Drug status for this product. Most recently, Medipost has launched two trials of Pneumostem® for intra-ventricular hemorrhage in premature infants and four trials of Neurostem® for Alzheimer's disease in seniors. This makes Medipost the company most likely to win first approval of a cord blood product for brain injury.
Kang Stem Biotech is another South Korean company that has a technology platform of expanded MSC derived from cord blood19. Their Furestem® product line is in trials for auto-immune disorders such as Crohn's disease and atopic dermatitis.
In the graph below, only companies with three trials or more are named. The best example of how sponsors in this field may have changing fortunes is Fate Therapeutics; they sponsored five trials of a product ProHema-CB designed to speed cord blood engraftment, but dropped this pipeline to focus on the development of a universal donor CAR-T product.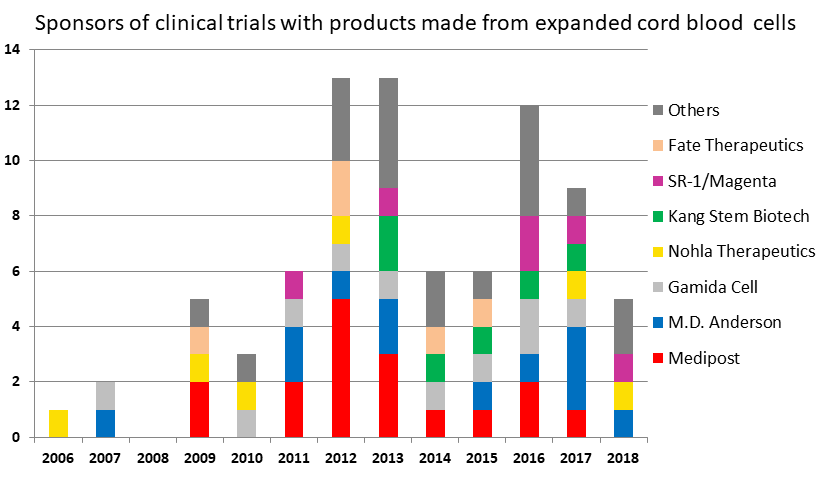 References
Here is a publication with a 2022 update on clinical trials using expanded cord blood: Sun Z, Yao B, Xie H, Su XC. Stem Cells Translational Medicine 2022; XX:1–15 Published on-line Aug. 2022. Clinical Progress and Preclinical Insights Into Umbilical Cord Blood Transplantation Improvement.