You are here
Family Bank: MiracleCord
About
MiracleCord is an industry leading cord blood and cord tissue bank offering advanced and comprehensive stem cell banking services. MiracleCord - a promise for your future.
Labs and Locations
MiracleCord's state-of-the-art laboratory remains on the forefront of stem cell research and technology.
Their laboratory is FDA registered, AABB accredited and has more than two decades of experience. This ensures that they adhere to the industry's most stringent standards for processing and storing cord blood and cord tissue stem cells.
MiracleCord receives and processes cord blood and cord tissue units 7 days per week, 365 days a year.
All specimens are protected in a high-security facility with multi-layer temperature monitoring and manifold emergency power sources, including redundant battery and generator back-up systems. The lab's nitrogen storage capacity and internal piping system are one of the largest in the country.
Business Experience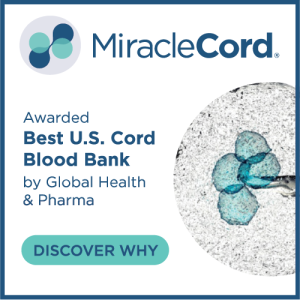 MiracleCord's laboratory facilities were founded in 1997 with a mission to provide parents with access to cutting-edge technologies for stem cell cryopreservation, enhanced cell culture, and tissue engineering. MiracleCord's laboratory facilities have processed and stored over 900,000 cord blood units.
Collection Kit
MiracleCord's StemCare® thermal collection kit includes an FDA-approved sterile cord blood collection bag that is Heparin-free and safe for use in the sterile field should a c-section be necessary.
Transportation container
Cord blood and cord tissue contain delicate stem cells that are highly vulnerable to changes in temperature. MiracleCord's exclusive thermal StemCare technology was designed to protect cord blood and cord tissue specimens from fluctuations in ambient temperature from the moment the specimens are collected until they reach their lab facility. Failure to maintain a consistent room temperature between collection and processing can result in a significant loss of stem cells.
Shipping Info
MiracleCord has the unique ability to process your baby's stem cells with TimeCritical Processing. MiracleCord's direct medical courier service ensures the fastest delivery of cord blood and cord tissue to their lab. This service is included with every plan at no additional cost. Professionals trained in handling human tissue carefully transport each cord blood and cord tissue specimen in a temperature-controlled environment.
Many cord blood banks utilize a "hybrid" medical courier service that transfers custody of their clients' specimens to a commercial shipping carrier such as FedEx® or UPS®. Commercial shipping carriers are not temperature-controlled and can delay cord blood and cord tissue processing by 48 hours or more. Both factors may result in a significant loss of viable stem cells. MiracleCord's direct medical courier service does not transfer custody to commercial shipping carriers such as FedEx® or UPS®.
Processing Method
MiracleCord's laboratory uses AXP II AutoXpress, an advanced, automated cord blood processing platform that is a fully closed, sterile system. Optical sensor technology provides precision separation and recovery of the stem cells from cord blood. The AXP II system has the proven ability to recover 99% of cells, which is 20% higher than Sepax and Hespan; the processing methods used by many other companies. Additionally, the AXP II system virtually eliminates lab technician errors and the introduction of contaminants, which can occur during manual processing. One of the big advantages of the AXP II platform is the high success rate of the cell yield. Cell yield is critically important because transplant success and patient survival rates improve when greater numbers of cord blood stem cells are used in therapy.
Components Stored
MiracleCord stores cord blood specimens in a dual-compartment cryo-bag with three additional integral segments attached to the closed system transfer set. The three integral segments are used for any future testing that may be required, including HLA typing. After processing, MiracleCord provides families with a Certificate of Storage and a comprehensive lab report documenting the details of the specimens.
Storage Method
MiracleCord stores cord blood samples in large vacuum walled liquid vapor nitrogen tanks specifically designed for long-term cryogenic storage. MiracleCord's storage tanks are protected in a high-security facility with multi-layer temperature monitoring.
Licensing & Accreditation
MiracleCord's laboratory facilities hold the following designations:
AABB Accreditation
FDA Registration
Rated A+ by the BBB
Additional Licensing by CA, MD, IL, NJ & NY
Clinical Experience
Over 100 cord blood units processed and stored by MiracleCord's laboratory facilities have been released for transplant. All of the transplanted stem cell units were viable and successfully engrafted. Should you need to use your baby's stem cells in a transplant, MiracleCord has the ability to cryogenically ship cord blood and cord tissue units to transplant hospitals anywhere in the world.
Insurance
MiracleCord provides a $100,000 Quality Guarantee to their clients. If a cord blood unit is used in a stem cell transplant and the cells fail to engraft, MiracleCord will pay the family $100,000 towards the cost of procurement of an alternative stem cell source.
Community Service
To honor the families who serve and protect America, MiracleCord offers special discount pricing for military personnel. Call MiracleCord at 1-888-743-2673 for more information.
Prices
MiracleCord provides high-quality cord blood and tissue banking services at affordable prices. Their plans are all-inclusive with no hidden fees. Click here to see current pricing and promotions.
Additional Services
In addition to cord blood banking, MiracleCord offers optimized cord tissue stem cell banking. Cord tissue stem cells are vastly different from cord blood stem cells, and can potentially be used to treat different diseases and conditions within the body.
Address:
875 N. Michigan Avenue, Suite 3100 Chicago, IL 60611
Email