You are here
What your placenta can and can't do
August 2014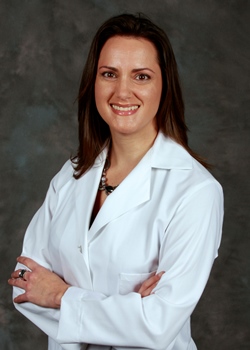 Many expectant parents research their options for their child's cord blood - whether to donate it, privately bank it, or have it discarded as medical waste - but what about the placenta? Can it, too, be a valuable source of cells that one should consider saving? Before we address that question, let's first discuss the placenta itself.
The placenta is a maternal-fetal organ that develops in the uterus during pregnancy and, among other things, is responsible for providing the growing fetus with oxygen and nutrients while also removing toxins. The maternal side of the placenta fills with blood from the uterus. The fetal side of the placenta receives the baby's blood from the umbilical cord. The fetal and maternal blood vessels are close enough within the placenta to allow for the transfer of nutrients, oxygen, and waste products, however the two circulations do not mix. Once the baby is born, the placenta detaches from the uterine wall and is expelled from the body. The placenta is often referred to as the "afterbirth".
There's no doubt that the placenta is an amazing organ, but to date, when it comes to stem cell banking, it often takes a back seat to cord blood. This is not surprising, though, as the first cord blood transplant occurred more than 25 years ago, whereas the first human transplant of placental derived stem cells occurred a little more than six years ago in March of 2008.
Options for banking placental stem cells
Just as it is possible to bank umbilical cord blood and cord tissue, there are options available to bank blood and tissue from the placenta.
What is placental blood?
Placental blood is the blood that remains within the blood vessels of the placenta after the baby is born. It is collected after cord blood collection has been completed. Placental blood contains similar cells to those found in the cord blood, including hematopoietic stem cells (cells which make blood cells). What makes placental blood unique is that is it contains a higher concentration of certain stem cells, and in more immature stages of development when compared to cord blood. This is important because the number of stem cells used in treatment has been linked to transplant outcome (the more the better), and more immature cells are less likely to invoke a graft-versus-host response in the transplant recipient.
Placental blood also contains a greater fraction of a special type of stem cell, called mesenchymal stem cells (MSCs), than cord blood, and these cells are currently being studied around the world for a possible role in regenerative medicine, which aims to use these special cells to repair or replace damaged or diseased cells or organs.
If you are interested in banking your baby's placental blood in addition to the cord blood (currently, only LifebankUSA offers this service) your doctor, nurse, or midwife will package the entire placenta to be sent to LifebankUSA along with the cord blood. Once at the lab, the placental blood is collected in a sterile environment by specially trained laboratory technicians. To date, 10 patients have received placental blood infusions along with cord blood transplants from LifebankUSA.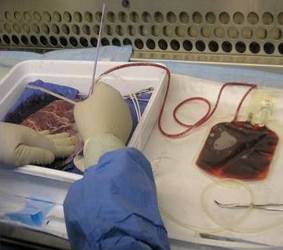 Photo shows a technician at LifebankUSA harvesting blood from the placenta by a technique called perfusion.
What is so special about placental tissue?
Placental tissue banking gives one the opportunity to store cells that may have unique applications quite different from those for cord or placental blood. Cord and placental blood are predominantly used for transplants where hematopoietic reconstitution (the rebuilding of the blood cells) is needed. Tissue from the placenta, on the other hand, contains abundant MSC and MSC-like cells which are being studied in regenerative medicine. MSC and MSC-like cells are currently being studied in variety of clinical settings for conditions such as Crohn's disease, type 1 and type 2 diabetes, heart failure, diabetic foot ulcer, amyotrophic lateral sclerosis (ALS, or Lou Gehrig disease), and rheumatoid arthritis. The cells are most commonly administered intravenously or intramuscularly.
Several of the above studies use placental derived MSC and MSC-like cells obtained from LifebankUSA. This is important to note: LifebankUSA uses the same method to procure and store the placenta tissue for both the manufacturing of material for human clinical trials and for private placental tissue banking clients. In addition, while storage of umbilical cord tissue is offered by several cord blood banks, storage of placental tissue is currently only available with LifebankUSA.
Other choices
Of course, no one should feel obligated to store their child's cord blood, cord tissue, placental blood, or placental tissue. If you decide this is not right for your family, please consider donating these tissues to LifebankUSA, or another cord blood bank, so that others might benefit from your gift.
Lastly, a word on eating your placenta. Yes, eating. There is growing trend for mothers to take their placenta home for consumption (recipes available on the internet) or ship their placenta to any number of companies to have it ground into small pieces and made into capsules for swallowing. While consuming your placenta may seem holistic, or natural, be aware there are no clinical studies proving any benefit, nor is there any health or safety regulation of companies that prepare your placenta.
Conclusion
The placenta is your child's life support system for nine months. After your child is born, stem cell rich placental blood may be collected in addition to cord blood for a variety of hematologic (blood related), immunologic, and metabolic conditions, and MSC-rich placental tissue may be saved for possible future use in regenerative medicine applications. If you choose not to bank your child's placental blood or tissue, please consider donating it so that research into, and treatment with, this amazing organ can continue.
Reference: Tsagias N, Koliakos I, Lappa M, Karagiannis V, Koliakos GG. Placenta perfusion has hematopoietic and mesenchymal progenitor stem cell potential. Transfusion 2011;51:976-985 DOI:10.1111/j.1537-2995.2011.03077.x