You are here
Vitalant merges public cord blood banks
December 2018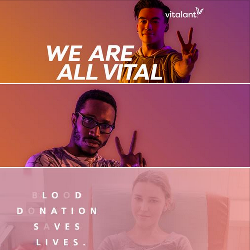 Blood Systems announced on 24 Sept. 2018 that it is unifying its 10 blood center brands under the new name Vitalant.
The 10 donation centers that come together collectively under the name Vitalant are: Blood Centers of the Pacific, BloodSource, Bonfils Blood Center, Central Blood Bank, Community Blood Services, Inland Northwest Blood Center, Lifeblood, LifeShare, LifeSource and United Blood Services, in addition to the umbrella organization Blood Systems.
Vitalant blood banks serve communities across 40 states, operating 127 donation centers and more than 30,000 mobile blood drives where donors supply 1.8 million donations per year. Vitalant supports nearly 1,000 hospitals and health care entities throughout the United States, impacting millions of lives. In addition to blood products, Vitalant offers hospital partners transfusion services, medical consulting, quality guidance, ongoing education, research and more.
"Our organization has grown to encompass blood donation centers and specialty services from coast to coast. As transfusion medicine leaders, we embrace this opportunity to combine our innovative capabilities," said Vitalant President and CEO David Green, in the press release.
Within the cord blood community, Vitalant has consolidated two public cord blood banks into one. The Institute for Transfusion Medicine (ITxM) cord blood services have been taken over by Community Blood Services in New Jersey, which is now known as Vitalant New Jersey. The inventory of ITxM has been transferred to Vitalant New Jersey. Cord blood donations are no longer collected by the former ITxM sites in Illinois, and donations from the Dan Berger Cord Blood Program in Pennsylvania are now processed together with New Jersey donations in the Vitalant New Jersey cord blood laboratory located in Montvale.