You are here
Save The Fox campaign for Judge Carl Fox
February 2016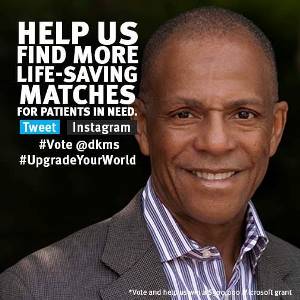 Parent's Guide to Cord Blood Foundation talked with Judge Carl Fox and his supporters in February 2016 to learn how they mobilized a community to Save The Fox.
Carl Fox was a North Carolina Superior Court Judge in spring 2015 when he noticed an unusual bump on his lower right leg that would not go away. He entered the hospital in April and was finally diagnosed in late May with myelodysplastic syndrome, a failure of the bone marrow to produce adequate numbers and types of blood cells that is frequently called "pre-leukemia". The judge needed a stem cell transplant from a healthy donor to reboot his immune system.
That is where the problem began: finding a matching donor.
The US national registry of stem cell donors - the Be The Match registry - currently has more than 13.5 million registered bone marrow donors and 243,000 cord blood units stored in member banks. But patients are most likely to find a match within their own racial or ethnic group, and African American patients have the lowest probability of finding a perfect match. This is partly because only 6% of the registered adult donors are African American, and partly because Africans have greater genetic diversity than any other racial group.
Currently, the odds of an African American patient finding a perfectly matched adult donor in the US are only 18%. Cord blood transplants do not have to be perfectly matched, so with cord blood included an African American's chances of finding a suitably matched donor are more than 80%.
At the time that he was diagnosed, Judge Carl Fox had no matches whatsoever, neither adult donors of bone marrow nor banked units of cord blood.
Julia Smith, RN, Carl's devoted partner, immediately went into organizational overdrive to find a donor for Carl. She set up a Facebook page for the campaign titled "Save The Fox", with a memorable logo designed by a friend.
At this point Delete Blood Cancer started helping Save The Fox to organize drives to register bone marrow donors in the Triangle Area of North Carolina. Delete Blood Cancer is the US arm of DKMS, the world's largest international network of donor centers. Within the US, Delete Blood Cancer recruits individuals for the national registry. Delete Blood cancer has held over 10 thousand donor drives in the US, registered over 763,000 new potential donors, and facilitated over 2,360 transplants.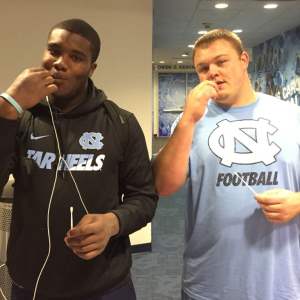 Delete Blood Cancer began training volunteers to run donor drives, and those volunteers in turn trained more volunteers. Drives to register adult donors were held at schools, sporting events, businesses, and community centers. So many people were moved to come forward to help that even an inmate who had been prosecuted by Judge Carl Fox volunteered to donate for him.
In the summer of 2015, Judge Fox went public with his diagnosis and donor search, giving interviews on several TV stations. As he told WRAL, "In my mind, there was no choice but to be public about it."
All it takes to register as a bone marrow donor is to fill out a health history form, and submit a swab from the inside of your mouth that will be sent to a laboratory that can register your tissue type. None of your personal information is shared beyond the registry. In the future, if you come up as a match for a patient, the registry will contact you to see if you are still eligible and willing to donate.
"The more people who get on this registry, the better," says Judge Fox. "Even if they aren't an exact match for me, they may be for someone else."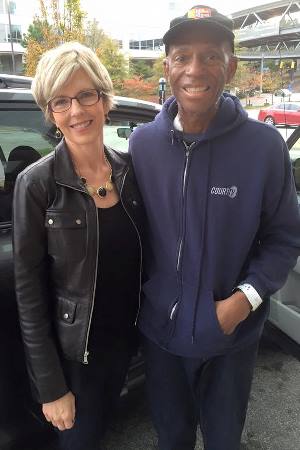 In August of 2015, Judge Fox learned that two cord blood units had been found in the Be The Match network of public banks that were both close enough matches for him to use as stem cell transplant donors. His medical team decided that he would receive both of them at once, a "double cord blood transplant" at the UNC hospital on the 30th of September. To prepare, the judge entered the hospital in late September and began to take very intense chemotherapy to wipe out all the cells in his malfunctioning immune system.
Julia Smith organized a roster of volunteers to visit the Judge, so that he would never be alone during the 60 days he was expected to stay in the hospital post-transplant. Fortunately, his recovery went smoothly and he was able to go home on Nov. 4, after "only" 7 weeks in the hospital.
Despite the fact that Judge Fox has received a stem cell transplant, Save The Fox drives continue to register adult donors, in hopes of helping other patients, especially African Americans who have a hard time finding a match. As the Judge told Parent's Guide to Cord Blood, "We can increase the odds if we get more people registered". If you would like to "Get Swabbed", you can request a kit by mail from this link: deletebloodcancer.org/register
Save the Fox is registered as a 501c3 charity and will continue to promote donor drives. By February 2016, their campaign has registered over three thousand people, and three of them have been identified as potential donors for patients in need. If you would like to volunteer at a drive, contact Bob Murray of Delete Blood Cancer (bob@deletebloodcancer.org).