You are here
Planting Seeds One Community at a Time
November 2015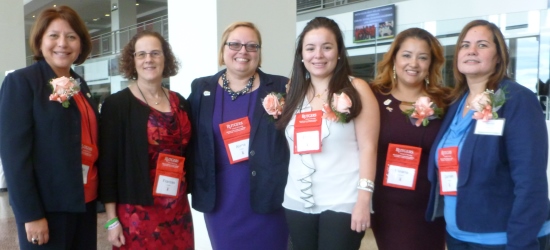 Hispanics in the State of New Jersey now comprise the largest minority, making up nearly 18% of the State's population or roughly 1.5 million residents (US Census Bureau, 2010). Despite the nursing profession numbering 3 million registered nurses in the United States, only 3.6% of these are Hispanic, or of Latino origin (AACN Diversity in Nursing, 2015). At the local and state level the National Association of Hispanic Nurses (NAHN) Garden State Chapter was formed to help bridge the equity and health disparities that exist within Hispanic communities in New Jersey (NJ).
"Planting Seeds One Community at a Time" is the motto of Garden State NAHN. The chapter's focus is primarily on education, advocacy, and collaboration. Garden State NAHN achieves its motto by forging relationships with community partners, schools of nursing, and local hospitals. Garden State NAHN believes that by aligning its resources with community partners it can eliminate redundancies, and promote communication and team building that serves to enhance optimal care for the most susceptible populations. Nurses understand that we do not work in silos! This mindset is carried into our partnerships so we can collaborate and pool resources to better serve our local Hispanic communities.
Since the chapter's inaugural launch in January 2015, Garden State NAHN has been pro-active in alternating its monthly chapter meetings between a hospital and a school of nursing. We cover both the Northern and Southern regions of the state to include those counties that comprise the largest number of Hispanic residents.
Garden State NAHN also stays true to its motto by contributing to each town or city that hosts its monthly chapter meeting. Community service is at the essence of caring for our most vulnerable populations. We do this on an on-going basis through various community events such as Food Drives - helping to restock the shelves at a local food pantry, serving hot meals at local soup kitchens, and collection of granola bars and juice packs to donate to a local after-school program.
Garden State NAHN and its individual members have partnered with the media and with community programs in numerous joint efforts that provide bilingual health education directly to Hispanic communities and/or have provided us a forum to promote nursing as a profession for our Hispanic youth, thus helping to increase diversity in nursing as well as promoting a culture of health for all Hispanics. These are just a few examples of activities completed to date by the Garden State NAHN team members.
In May, Garden State NAHN hosted its first continuing education session leading to one professional contact hour titled, Impact of Sexual Assault and Domestic Violence on Women's Health. At this session, all attendees were asked to donate baby items that were delivered to a local woman's prenatal clinic. Additionally, Garden State NAHN held its First Annual Education Symposium & Scholarship Awards Lunch on October 17th. This event was built around empowering nursing students through networking and providing continuing education for registered professional nurses. This event had three educational tracks: student, leadership, and clinical track, leading to six (6) contact hours.
In November, Garden State NAHN will be hosting an educational session for its members about cord blood collection and storage. The session will review its history, current science, and future value. This session will serve to educate the nurse members and student members so they in turn can better educate and advocate for the communities they serve.
Garden State NAHN is committed to being inclusive and it welcomes all nurses, healthcare providers and affiliate stakeholders to join its chapter. We recognize that nurses and health care providers from diverse backgrounds care for Hispanic patients - and their families - and we invite them to share their insight by joining us! To learn more, visit us on-line at www.gardenstate-nahn.org or follow us via LinkedIn, Twitter (@gardenstateNAHN) or Facebook.
References:
American Association of Colleges of Nursing | Diversity in Nursing. (2015, March 16). Retrieved from AACN website
QuickFacts from the US Census Bureau. Retrieved from https://www.census.gov/quickfacts/
U.S. Census Guide: How to get the most out of Census.gov. Retrieved from BackgroundChecks.org