You are here
Phacilitate Cord Blood and Tissue Webinar
November 2016
To kick off the new Phacilitate Cord Blood and Tissue session at their 2017 Miami meeting Jan 17th - 20th, Phacilitate is hosting a Cord Blood and Tissue Webinar on Wed Nov 16th at 12 noon EST / 5PM GMT. To register for this free webinar click here.
Tomorrow's webinar theme will be "How cord blood and tissue can help drive cutting edge cell, gene and immunotherapies to market".
Moderator: Cade Hildreth, DMD - CEO, BioInformant.com
Panelists:
Colleen Delaney, MD - Director Cord Blood Transplants at Fred Hutchinson Cancer Research Center & CMO, Nohla Therapeutics
Joanne Kurtzberg, MD - Director, Carolinas Cord Blood Bank at Duke University & President, Cord Blood Association
Yael Margolin, PhD - CEO, Gamida Cell
Frances Verter, PhD - Director, Parent's Guide to Cord Blood Foundation
Below are the slides that Parent's Guide to Cord Blood Foundation is contributing to the webinar. To find out more, join us tomorrow.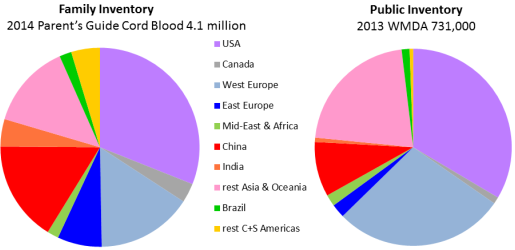 Although the inventory of cord blood stored in family banks is over five times higher than in public banks, the geographic breakdown of inventory is similar for the two types of banks. Exceptions to this rule are notable: In some countries of Western Europe, public banking dominates family banking, whereas the comparison goes the other way in some countries of Eastern Europe. This image was previously published as part of our 2015 Cord Blood Industry Report.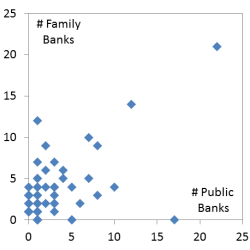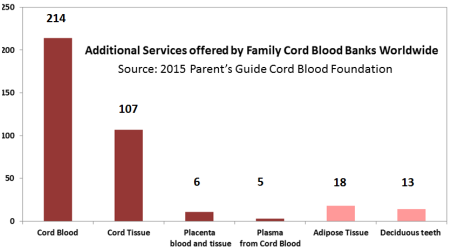 The previous figure compared inventory by region and this figure compares numbers of banks by country based on 2015 data. This graph plots the number of public banks per country on the X axis and the number of family bank laboratories in that country on the Y axis. Among the 63 countries in this graph, the correlation coefficent between public and family cord blood banks is 0.348 with p-value<.005. The outlier point with many banks of both types is the United States. Some countries have zero on one axis or the other. For example, Italy has 18 public banks but no family banks with a laboratory in Italy. This image has never been published before.
As part of our 2015 Cord Blood Industry Report, we surveyed family cord blood bank laboratories to find out what additional services they offered. We discovered that by mid-2015 half of family cord blood banks were also offering cord tissue banking services. The cord tissue chapter of our report goes into more detail about whether the banks are storing a tissue product or a cellular product, and how bank prices vary depending on the services offered. This image was previously published as part of our 2015 Cord Blood Industry Report.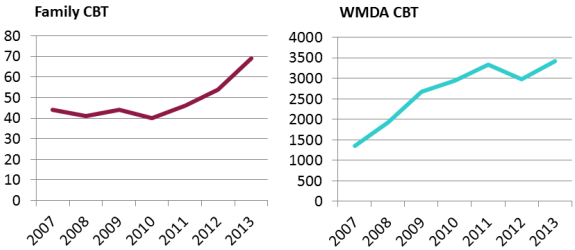 In this comparison, cord blood transplants from public banks for unrelated patients are taken from WMDA reports. During the last four years graphed, from 2010 to 2013, WMDA-brokered cord blood transplants have been roughly flat, with 10-15% change from year to year. Numbers of cord blood transplants released from private banks for family members are from the confidential database maintained by Parent's Guide to Cord Blood Foundation. This does not include cord blood releases from family banks for regenerative medicine therapies. We have documented in a previous article that the recent rise in transplants from family cord blood banks, 27% per year over the last two years graphed, is due to increased utilization for sibling transplants to treat thalassemia in Asia. This image has never been published before.
These images are a preview of a paper in preparation by Pedro Silva Couto, Frances Verter, and Alexey Bersenev. Both pie charts represent all clinical trials registered anywhere in the world, not just the US registry ClinicalTrials.gov. Over the decade from 2006 to 2015, two thirds of the world's registered cord blood trials took place in South Korea or the United States. By comparison, China dominates cord tissue research, holding 79% of all registered trials. An important caveat to these figures is that many patients are treated in studies that do not appear in a trial registry until the study status is "completed", or the study may never be registered at all. Therefore the compilation of trials databases is useful for tracking trends but is not a complete view of current research. This image has never been published before.