You are here
Moinam's Story
June 2017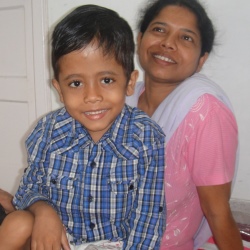 Moinam was a healthy baby when he was born 12 years ago via elective Caesarean delivery. When Moinam was turning 5 months old, his parents noticed him having an unusually pale appearance. This called them to bring him to the hospital for check-ups and various blood tests. Unfortunately in a twist of fate, he was diagnosed with E-Beta Thalassemia at this extremely young age.
Moinam's parents were devastated and had bitter tears over self-reproach for not getting him screened for this condition earlier, despite both of them being school teachers. If left untreated, most children afflicted with this disorder may not live past the age of 10. Moinam had to undergo regular blood transfusions and medication to keep his red blood count at normal level.
They sought every possible way to get their child treated and they learned the only way to cure Moinam was through a stem cell transplant. Counselled by Dr. Asis Mukherjee, Moinam's oncologist and transplant physician, they decided to give haematopoietic stem cell transplantation (HSCT) a try. HLA matching was done for the entire family but none was a perfect match. Hence, they decided to try for a second pregnancy and store the baby's umbilical cord blood with Cordlife India for Moinam's treatment later, at earliest one year after the cord blood collection.
"We decided to use a mixture of bone marrow and cord blood cells as it has a better and faster chance of success than only bone marrow cells. Bone marrow stem cells … could lead to graft versus host disease, triggered by the body's defence mechanism following the transfusion. By using cord blood with bone marrow, the number of stem cells available for transfusion will be increased and the chance of any complications can be reduced. This is the treatment of choice in such cases, which may lead to a complete cure," explained Dr. Mukherjee, Medical Director of Netaji Subhash Chandra Bose Cancer Research Institute.
Moinam's sister was born healthy in 2009 and her growth was normal. Most importantly, she was tested free from Thalassemia. Hence, her cord blood was successfully stored and carefully preserved. HLA matching for Moinam and his younger sibling was found to be prefect, thankfully. This shone new hope for Moinam and his family as the success rate for cure is much higher for this matched HSCT, complemented with a small amount of bone marrow.
Now aged 12, Moinam has been going to school regularly and is doing very well. On top of that, he has advanced to learning classical music and painting. Although he still needs to undergo blood transfusion, he is receiving much fewer blood transfusions and maintenance iron chelation therapy, which may be discontinued very soon.