You are here
Itzel's Cord Blood Transplant
July 2019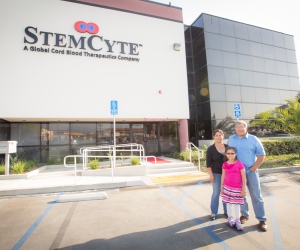 Itzel Cervantes had a successful cord blood transplant in February 2013. The life-saving cord blood donation was collected by the StemCyte public bank in December 2001 at Garfield Medical Center in Monterey Park, California. After 12 years in cryopreservation at StemCyte, the cord blood stem cells remained viable for a successful transplant.
Itzel Cervantes was 6 years old when she underwent the cord blood transplant. She had a diagnosis of Acute Lymphoblastic Leukemia (ALL). The leukemia kept relapsing after chemotherapy, so that the only way to stop it was a stem cell transplant. But Itzel's sibling was not a close enough HLA match for her, and a search through the national Be The Match registry failed to identify any donors for a bone marrow transplant.
Fortunately, the StemCyte public cord blood inventory held a cord blood unit that was a perfect match for Itzel, and had an excellent dose of stem cells.
Itzel's transplant engrafted early at day 17. She had some of the usual complications associated with cord blood transplants, such as a viral infection which delayed overall recovery of her immune system. But the important thing is that, after the transplant Itzel's leukemia was gone, which doctors call a "complete remission". The anti-leukemic effects of the cord blood transplant likely contributed to her remission. Itzel did not have any acute Graft Versus Host Disease (GVHD), only a mild and limited chronic GVHD of the skin that has responded to topical medication.
Within a reasonable time, Itzel was discharged from the hospital in good health. She returned to school and her regular activities within 6 months post-transplant. Itzel is a thriving, bright, vibrant and courageous young lady.