You are here
Cryolife of Hong Kong Celebrates 25 Years
July 2021
Cryolife, located in Hong Kong, S.A.R. China, was the first family cord blood bank founded in Asia, 25 years ago. Cryolife has been leading the way for 25 years to serve many families with high quality collection, processing, and cryopreservation services of umbilical cord blood and birth tissues.
Such international recognition entails that the storage facilities operated by Cryolife are of top-notch quality. Cryolife was the first cord blood bank in Hong Kong to use MVE cryogenic storage tanks, a standard adopted by the world's most prestigious medical universities and government institutes. Cryolife uses the AXP AutoXpress™ platform, a semi-automated and enclosed system that eliminates risk of infection and contamination, to process cord blood prior to cryopreservation. Cryolife is the first cord blood bank in Hong Kong to attain AABB accreditation and the only one to have been AABB accredited for 14 consecutive years.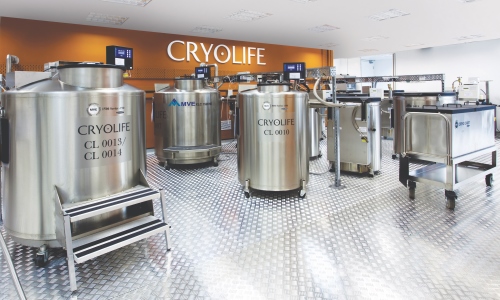 Cryolife is the first and only cord blood bank in the world to place their entire laboratory under a comprehensive 24-hour online live monitoring system which is open to the public for greater transparency.
The elaborate processing and storage configuration of Cryolife is set up for just ONE goal: to keep stem cells at optimal condition for future use. The viabilities of all stored stem cells with Cryolife are regularly accessed following the highest standards with the results being verified by auditors from AABB, ISO, and HK Q-Mark to ensure its QA's authenticity. For a show of confidence, Cryolife is the only cord blood bank in Hong Kong to make its biannual QA test results available to the public. Twice a year, the cell count viability reports are tabulated and published to show that all cryopreserved stem cells stored with Cryolife are still viable for future therapies when thawed. We understand this is the most important and critical factor for all our clients.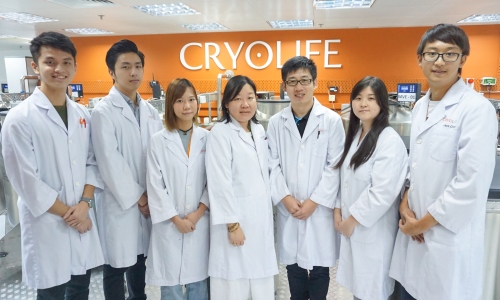 Besides state-of-the-art equipment, Cryolife boasts a round-the-clock professional team that is ready for action anytime. Within 12 hours of being notified of a collection, our specialized and accredited medical courier team will retrieve blood and tissue samples from the hospital of birth and deliver them to the laboratory for processing and storage. Additionally, a professional panel of medical advisers are on call to offer their honest and independent opinions to give clients an ease of mind.
Cryolife is active in collaborating with local stem cell research institutions and universities to expand clinical applications with stem cells from cord blood and birth tissues. In fact, the first cerebral palsy patient in Hong Kong to receive her own cord blood for autologous transplant in 2009 had her cord blood stored with Cryolife, a vivid example of the company's core mission. Given the rapid advancement of stem cell therapies in the field of regenerative medicine, Cryolife has extended its banking services to include umbilical cord tissue and it is the only bank in Hong Kong to process and cryopreserve tissue from the placenta.
As part of their enhanced customer focused services, Cryolife is the only private cord blood bank in the world to offer potential clients an option to store their baby's cord blood now and only pay two years later without any legal obligation, even if they opt to terminate the storage services eventually. Cryolife's 2-Year Deferred Payment Plan presents all expectant parents their once-in-a-life-time opportunity to store their baby's umbilical cord blood during their critical birth moment, without having to worry about the financial commitment of cryopreservation for the initial two years.

It is Cryolife's mission to provide best-in-class customer-oriented cord blood banking services, and this year marks our vision's fulfillment through 25 years of earnest devotion.