You are here
Charity Profile: Cords4LifeUK
December 2013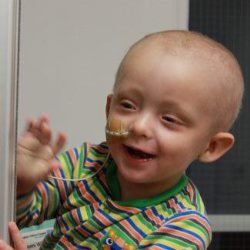 Cords4LifeUK was founded in memory of a British toddler named Charlie Harris - Beard. In April 2011 at the age of 11 months, Charlie was diagnosed with Acute Myeloid Leukaemia (AML), and within the next four months he went through four intensive cycles of chemotherapy to suppress his blood cancer. But AML cannot be cured without a stem cell transplant, and unless he could find a matching donor, Charlie was given only three months to live.
A Facebook page (Help Save Baby Charlie Harris - Beard) was created in order to appeal to the general public to come forward and register to be a bone marrow donor, not only to help Charlie but to help thousands of others that find themselves fighting leukaemia and other cancers requiring a stem cell transplant.
Charlie soon found his match and his life-saving transplant went ahead in Oct. 2011. By the time he recovered, Charlie had spent about 10 months living in Birmingham Childrens' Hospital. Finally in early 2012 Charlie was able to go home and enjoy normal family life once again.
Charlie's second chance of life from a stem cell transplant was wasn't down to an adult donor, but thanks to someone in the USA for donating their umbilical cord blood following the birth of their baby girl. The Anthony Nolan trust found Charlie's donor, thanks to agreements between cord blood banks around the world to list cord blood donations on international registries. Without this agreement in place, Charlie may never have got the stem cells he so desperately needed.
While there have been many cases in which various forms of leukaemia have been permanently cured with cord blood, this wasn't to be for Charlie. He relapsed in September of 2012. Doctors were quick to readmit him to the hospital for more chemotherapy, to try to hold back his leukaemia and schedule another stem cell transplant. But Charlie's leukaemia kept growing, and once again he was given weeks to live.
Charlie's parents Fiona and Joe got married on the 17th of Nov. 2012, with Charlie as their best man and their older daughter Ellie-Louise as a bridesmaid. Charlie stole the show, coming down the aisle with the wedding rings in a remote control model car. The poignant story received international coverage in the press.
Meanwhile, Charlie's family and friends refused to give up on him and kept searching for a therapy that might help him. In Dec. 2012 Charlie was accepted for a trial of an experimental anti-cancer drug, and in Jan. 2013 he began preparation for the treatment. A few days later Charlie developed pneumonia and was moved to an intensive care unit, where he stayed until his life drew to a close on February 8th 2013. Hundreds gathered for his funeral at the same Church where his parents had recently wed.
Cords4LifeUK was started to raise more awareness of umbilical cord blood donations in the UK:
| | |
| --- | --- |
| | 800,000 babies are born in Great Britain every year, that's enough to fill Wembley Stadium 3 times over!! Now just think if every one of those women had donated their cords there would be some serious amounts of miracles taking place. |
| | 80% of UK transplant requests would be met if we saved 50,000 units of cord blood. Regardless of this fact, last year 65,000 units were thrown away by the NHS. |
| | On average, every year 1 in 100 cord units will be used for transplantation compared to 1 in 1000 registered adult donors. |
Cords4LifeUK, aka #charliesarmy, has over 53 thousand followers on Facebook and almost 6 thousand on Twitter.They are working with the UK's Anthony Nolan trust to raise awareness and funding for cord blood donation and cord blood research throughout the UK. Cords4LifeUK also seeks to support families that are affected by childhood cancer, to ensure that no family has to unnecessarily go through what they have experienced.