You are here
Brain Injury Association of America
May 2013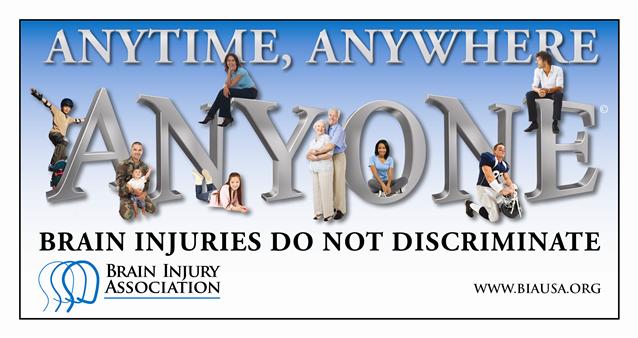 Every 18.5 seconds, someone in America suffers a brain injury. Across the US, 1.7 million people sustain a traumatic brain injury (TBI) each year. Another 795,000 individuals sustain an acquired brain injury (ABI) from non-traumatic causes each year. A brain injury can happen anytime, anywhere, to anyone - a brain injury does not discriminate. In the blink of an eye, a brain injury changes the way we think, talk, move and feel.
Brain injury is not an event or an outcome. It is the start of a misdiagnosed, misunderstood, under-funded neurological disease. Individuals who sustain brain injuries must have timely access to expert trauma care, specialized rehabilitation, lifelong disease management and individualized services and supports in order to live healthy, independent and satisfying lives. Currently more than 3.1 million children and adults in the US live with a lifelong disability as a result of TBI, and an estimated 1.1 million have a disability due to stroke.
The Brain Injury Association of America (BIAA), founded in 1980, is the country's oldest and largest nationwide brain injury advocacy organization. The mission of BIAA is to advance brain injury prevention, research, treatment and education, and to improve the quality of life for all individuals impacted by brain injury. BIAA is dedicated to increasing access to quality health care and raising awareness and understanding of brain injury. With a network of state affiliates, local chapters and support groups, BIAA is the voice of brain injury.
The 2013 Bowling for Brain Injury event is an inaugural event for the Brain Injury Association of America. Five pilot states: Illinois, Indiana, Missouri, Nebraska and New York will launch the event between March and June 2013. Teams of six will register. Each member of the team will create an individual webpage that can be used to email friends and family...asking for their support of your efforts. Bowling for Brain Injury is a fun and easy way to support a cause that impacts millions of Americans.