You are here
Family Bank: Cryo-Cell
About
Founded in 1989, Cryo-Cell International, Inc. is the world's first private cord blood bank. More than 500,000 parents from 87 countries have entrusted Cryo-Cell International with their baby's cord blood and cord tissue stem cells. In addition to its family bank, Cryo-Cell International has a public banking program in partnership with Duke University. Cryo-Cell's public bank has provided cord blood for more than 600 transplantations and operates cord blood donation sites across the U.S.
Labs and Locations
Cryo-Cell's industry-leading, state-of-the-art laboratory is located in Tampa Bay, Florida. Cryo-Cell operates in a facility that is FDA registered, FACT accredited, cGMP-/cGTP-compliant, and licensed in all states requiring licensure.
Specimens are housed in their cryogenic bunker, which is built with solid concrete walls and a reinforced ceiling constructed to withstand the strongest hurricane-force winds. Cryo-Cell maintains an on-site industrial-grade diesel generator, which can provide emergency back-up power for several days with fuel supply onsite. The temperature of the cryogenic chambers is continuously monitored. Note that maintaining ideal storage temperatures does not rely on uninterrupted electrical power, only the supply of liquid nitrogen. A huge 6,000-gallon liquid nitrogen tank located on the property provides a nearly 60-day supply of liquid nitrogen. Cryo-Cell offers an extensive list of measures to ensure the security of their facility and the integrity of the stored cord blood and cord tissue.
Business Experience
From its founding, until today, Cryo-Cell has expanded its expertise all over the world and has exclusively licensed its technology and services to over 15 affiliated countries. Besides being the world's first cord blood bank, Cryo-Cell has continued to achieve significant milestones to position themselves as leaders in today's industry. Here are some highlights of the company's impressive timeline.
Cryo-Cell established Saneron CCEL Therapeutics, Inc., in partnership with Dr. Paul Sanberg, the world's preeminent cord blood stem cell scientist to fund research focused on the clinical use of cord blood to treat neurodegenerative diseases, including stroke, Parkinson's and Alzheimer's.
Cryo-Cell became the first major cord blood bank to embrace a superior technology (PrepaCyte-CB), which yields the maximum recovery of healthy stem cells.
Cryo-Cell was the first private cord blood bank to be awarded FACT accreditation (the Foundation for the Accreditation for Cellular Therapy) and remains committed to maintaining the highest accreditation standards in the industry.
The company introduced a new five-compartment cord blood freezer bag allowing for multiple uses of a baby's cord blood stem cells.
Most recently, in 2018 Cryo-Cell expanded its role in the industry to include public cord blood banking services. Partnered with Duke University, the program has provided cord blood for more than 600 transplantations and operates cord blood donation sites across the U.S. In addition, Cryo-Cell appointed Joanne Kurtzberg, M.D., as medical director. She is an internationally renowned expert in pediatric hematology-oncology, pediatric blood and marrow transplantation, umbilical cord blood banking and transplantation, and the novel application of cord blood in the emerging fields of cellular therapy and regenerative medicine.
Collection Kit
Following an in-depth study lasting more than two years, Cryo-Cell developed a new advanced collection and transportation kit for cord blood and tissue banking.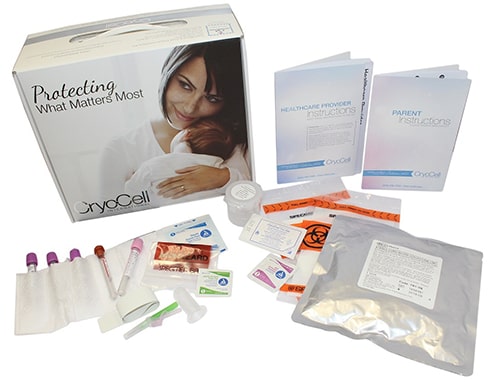 Special features of the Cryo-Cell kit include:
Temperature indicators: Stem cells can lose viability when exposed to temperatures outside the range of 39-86 degrees Fahrenheit (4-30 degrees Celsius).1-2 Safeguarding the cord blood requires a transport kit with excellent insulation. To make sure the stem cells stay within the desired temperature range on their journey, the Cryo-Cell kit has an internal indicator that issues an alert for any temperature excursion beyond the safe range.
Vacuum insulated panels: The walls of the kit provide 10x more temperature insulation than comparable materials.
Phase change packs: State of the art gel packs contain phase change material for maximum temperature control.
Heparin-free: Cryo-Cell only uses blood collection bags that are Heparin-free and instead use the anti-coagulant CPD (Citrate Phosphate Dextrose) that is both FDA and NDA approved.3 Cryo-Cell uses CPD in the collection bag to increase stem cell yield by more than 50% compared with bags containing heparin.
Sterile bag: Cryo-Cell's collection bag is sterile so that it can be used during both vaginal births and C-sections. During processing, the contents of the collection bag will ultimately make their way to the five-compartment cord blood storage bag that allows for multiple uses of the baby's cord blood stem cells. The sterile bag also works in conjunction with Cryo-Cells's proprietary processing methods that have increased stem cell viability by 10 percent compared to methods used by other cord blood banks.
Mother's blood vials: Cryo-Cell's kit includes five maternal blood tubes per their accreditation under FACT (an internationally recognized, prestigious accrediting organization) for the purpose of having additional samples in a separate freezer which can be accessed for testing without disturbing the principle cord blood unit.
Transportation container
The Cryo-Cell collection kit safeguards stem cells during transportation approximately 30 times longer than other private cord blood banks when exposed to extreme temperatures.
Shipping Info
Shipping arrangements are made by Cryo-Cell through an experienced private medical courier service. The courier service is available 24 hours a day, 7 days a week.
Shipping cost is included in the first-year service fees for Continental U.S. customers; an additional $50 applies for customers in Alaska, Hawaii, and Puerto Rico.
Each collection kit and client are uniquely identified. Cryo-Cell verifies and scans the collection kit contents and client information to match the information provided at the time of enrollment and notifies the client upon its arrival to their laboratory.
Processing Method
Cryo-Cell offers expectant parents a choice of two different cord blood processing methods:
Hetastarch® (HES) processing - Hetastarch (HES) processing of umbilical cord blood has been the industry standard since 1988, and thousands of transplants using HES-processed cord blood have been successful.
PrepaCyte®-CB premium processing
In 2009, a new advanced technology for processing cord blood known as PrepaCyte-CB was developed. Today, Cryo-Cell International has the exclusive rights to PrepaCyte-CB technology. This patented technology results in faster patient recovery by approximately 20%, which leads to a lower rate of infection and shorter hospital stay.4
PrepaCyte-CB recovers significantly more viable stem cells (Colony Forming Units [CFUs]) than the processing methods used by competitors. This leads to better therapeutic outcomes.5-7
In addition to recovering more stem cells, PrepaCyte CB greatly reduces the number of red blood cells (RBC). Fewer red blood cells mean fewer toxic particles being infused into a patient.5-7
Components Stored
The final component of blood that is stored is known as the "buffy coat," which contains white cells and stem cells.
Both the cord blood and cord tissue are over-wrapped for extra protection against cross-contamination during storage.
All specimens are stored in the vapor phase of cryogenic nitrogen for preservation, at a constant temperature below -180° Celsius.
Cryobags with multiple removable segments are used to allow for multiple future therapies from one collection.
Currently, Cryo-Cell International is the only private cord blood bank that takes the following measures, in compliance with the highest international transplant standards and FACT accreditation, to preserve more future testing samples for its clients:
Collect and store additional maternal blood
Store the residual plasma and red blood cells that are routinely discarded by other cord blood banks
These measurements are taken to facilitate possible future transplant needs, as well as in anticipation of possible future developments in medical science. Here is a sample of the growing list of future scenarios that Cryo-Cell's foresight makes possible for families without sacrificing the principle cord blood unit:
In the event that additional transplant matching criteria (HLA antigens) are established by regulators.
In the event that new infectious agents are discovered and testing can prevent infectious stem cells from being transplanted to another family member.
In the event that genetic testing is needed on the mother or the child.
In the event that the child develops a debilitating disease and it is helpful to know if the disease was present in the mother or the child at birth.
In case of mis-identification such as hospital errors or questionable lab results, tests can easily be conducted or repeated.

Reports: Upon completion of testing the viability and microbiology of a sample, parents are provided with a certificate of storage. Included in the certificate are the many test and processing results, including the total stem cell counts cryopreserved and safeguarded at Cryo-Cell.
Storage Method
Cryo-Cell International uses a five-compartment freezer bag that allows for multiple uses of the baby's cord blood stem cells. Individually labeled cord blood freezer bags are encased in overwrap for an extra layer of protection against cross-contamination. A technique called "controlled-rate freezing" is used to prepare the cells for long-term storage. Overwrapped bags are then inserted into a protective cassette and placed into designated slots in a cryogenic freezer. For optimum long-term storage conditions, storage racks are maintained in a vapor phase chamber, just above a reservoir of liquid nitrogen.
Licensing & Accreditation
Cryo-Cell International is licensed in all states that require licensure.
Cryo-Cell International operates in a facility that is FDA registered, and cGMP-/cGTP-compliant.
AABB: Cryo-Cell earned accreditation from AABB, an organization dedicated to the practice and standards of transfusion medicine and cellular therapies to optimize patient and donor care in preparation for and during transplantation.
FACT: Cryo-Cell is the first U.S. private cord blood bank to receive accreditation from FACT, for voluntarily adhering to the most stringent cord blood quality standards set by any internationally recognized, independent, accrediting organization.
ISO: Cryo-Cell International is ISO 13485:2003 certified by TÜV, an internationally recognized, quality assessment organization.
Clinical Experience
Cryo-Cell's Medical Director, Dr. Joanne Kurtzberg, has earned acclaim and respect in the cord blood field for the past 30 years. Dr. Kurtzberg participated in the first ever cord blood transplant in 1988, and today she has been the principle investigator using cord blood and cord tissue for the treatment of autism, cerebral palsy, and other brain injuries at Duke University, with three highly anticipated follow up clinical trials currently underway.8-10 Because of the promising initial findings from her studies, the FDA expanded access to the treatment for children or siblings with stored cord blood.
Cryo-Cell is a leader in regenerative medicine research through collaborations with Stanford University, Saneron-CCEL Therapeutics, and others, aiding in the discovery of new therapeutic uses for stem cells. Cryo-Cell holds more cord blood patents than any other cord blood bank through its partnership with Saneron-CCEL.
Since inception, 100% of the specimens released by Cryo-Cell for transplant have been viable upon thaw.
Cryo-Cell International has released 100 cord blood collections for transplants and 57 cord blood collections for autologous therapy.
To date, families have used their baby's stem cells stored at Cryo-Cell in treatments for several debilitating conditions such as Cerebral Palsy, Autism, Type 1 Diabetes, Chronic Myeloid Leukemia, Ischemic Brain Injury, Sickle Cell Anemia, as well as other conditions, as prescribed by their doctors.
Insurance
Cryo-Cell offers engraftment insurance that is among the highest in the industry:
In the event a child's cryopreserved cord blood is processed and stored with Cryo-Cell's Premium PrepaCyte-CB processing method and fails to engraft in a stem cell transplant, Cryo-Cell will pay the Client $100,000; if the processing method was their standard HES processing method and fails to engraft, Cryo-Cell will pay the Client $75,000. This is subject to the Terms and Conditions of Cryo-Cell's contract agreement.
Community Service
Donor Transplant Program: Cryo-Cell offers free cord blood processing and five years of storage to qualifying families, in the event an expectant family with a child or immediate family member (siblings or parents) may potentially need a cord blood stem cell transplant in the future.
Baby Boost Program: Cryo-Cell International's Baby Boost Program offers qualifying babies who receive a low Apgar score the possibility to bank their cord blood and cord tissue stem cells free of cost.11
Other Discounts Offered by Cryo-Cell
Returning Client Discounts
Referral Program
Military Discounts
Medical Professionals Discounts
Childbirth Educators Discounts
Prices
Cryo-Cell is committed to offering the highest quality of service at the best price possible. Their product claims are validated by third-party research and backed by stellar ratings found on websites dedicated to reviews of consumer experience.
Service prices include collection kit, medical courier, processing, testing of mother's and baby's blood for communicative diseases.
Standard cord blood processing including the first year of storage is $1675.
Upgrade to Premium Prepacyte® processing for only $350
The annual storage plans are offered at $175 per sample
Discounts available for returning clients, referrals, multiple births, members of armed forces and medical professionals.
Affordable in-house financing plans to accommodate every budget, with plans starting for as low as $79 per month.
Convenient 21 years and lifetime prepaid storage plans are available and offered at significant discounts when compared to cost of annual plans overtime.
Best price guarantee. Cryo-Cell will match the price of written offers from reputable competitors.(Limitations apply)
<<Please visit the Cryo-Cell pricing page for to-date special offers.>>
Additional Services
Cryo-Cell also offers Umbilical Cord Tissue Banking service. Umbilical cord tissue is rich in mesenchymal stem cells (MSC), which give rise to structural tissues such as bone, cartilage and muscle.
Cryo-Cell's cord tissue banking service processes and cryopreserves these cells for potential future therapeutic use and offers parents several storage options (two vials & six vials), which allows the potential for multiple therapeutic treatments, and samples can be thawed independently at different times.
Please contact Cryo-Cell at 800-786-7235 or click here to learn more.
References
Wierenga, PK, Brenner, MK and Konings, AWT (1998) Enhanced selectivity of hyperthermic purging of human progenitor cells using Goralatide, an inhibitor of cell cycle progression. Bone Marrow Transplantation 21:73-78.
Symonds, RP, Wheldon, TE , Clarke, B and Bailey, G (1981) A comparison of the response to hyperthermia of murine haemopoietic stem cells (CFU-S) and L1210 leukaemia cells: enhanced killing of leukaemic cells in the presence of normal marrow cells. Br. J. Cancer 44:682-691.
LA - Minimally Manipulated, Unrelated Allogeneic Placental/Umbilical. (2014). Available on-line.
Assessment of Hetastarch and PrepaCyte-CB in Transplanted Cord Blood Units. Poster presented at ICBS 2017. 15th Annual International Cord Blood Symposium; 2017 June 8-10; San Diego, California.
Christianna Henderson, Jonathan Wofford, Kathy Fortune, Donna Regan. Evaluation of Processing Technologies for Umbilical Cord Blood (UCB). SLCBB data presented as poster at the 16th Annual ISCT Meeting, 2010 May, Philadelphia, Pennsylvania.
The International Society for Cellular Therapy, Telgraft Quarterly Newsletter, Vol. 15 No. 4, Winter 2008
Donna Regan, Jonathan Wofford, Kathleen Fortune, Christianna Henderson, and Salem Akel. Clinical Evaluation of an Alternative Cord Blood Processing Method. SLCBB data presented as poster at the AABB Annual Meeting, San Diego, CA, 2011.
Kurtzberg, J. (2017). Expanded Access Protocol: Umbilical Cord Blood Infusions for Children With Brain Injuries - ClinicalTrials.gov NCT03327467
Kurtzberg, J. (2018). A Study of UCB and MSCs in Children With CP: ACCeNT-CP - ClinicalTrials.gov NCT03473301
Kurtzberg, J. (2016). Cord Blood Infusion for Children With Autism Spectrum Disorder - ClinicalTrials.gov NCT02847182
Duration of complementary years of storage may vary and is determined at Cryo-Cell's sole discretion.
Address:
700 Brooker Creek Blvd, Oldsmar FL 34677
Email