現在地
Emirati boy saves older brother's life with cord blood stored in CellSave Arabia
9月 2016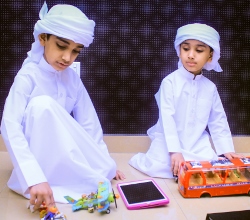 Zayed lived with the most severe form of the life-threatening blood disease Beta Thalassemia Major. By age seven, his condition was deteriorating fast and the family was given their last chance of hope thanks to the umbilical cord blood storage of Zayed's three-year old brother Mohammed. The only known cure for Beta Thalassemia Major is a stem cell transplant.
Beta Thalassemia Major is an inherited blood disorder that occurs when the genes governing the production of haemoglobin (the protein in red blood cells that binds to oxygen and carries it throughout the body) are flawed. The most common treatment is to receive regular blood transfusions to keep the body stocked with healthy red blood cells, but frequent blood transfusions can lead to other health problems.
The parents of Zayed and Mohammed had taken the decision to store their younger son's cord blood with CellSave Arabia in Dubai Healthcare City. Thankfully, detailed HLA typing showed the siblings were a close enough match for Mohammed to donate his stem cells to Zayed. CellSave Arabia was responsible for the shipment of the cord blood stem cells after in-depth testing in compliance with strict AABB and FDA criteria. CellSave Arabia is the only facility in the UAE accredited by AABB and this marks the first release of privately stored cord blood stem cells from the UAE to the US.
The transplant was carried out in late 2014 in the United States at the Johns Hopkins University School of Medicine, Baltimore, Maryland. Zayed underwent a combined transplant using stem cells from both cord blood and bone marrow to optimize the chances of success. Since the transplant, the family are back home in Abu Dhabi where Zayed has made a full recovery and no longer suffers signs of Thalassemia, nor has he required regular blood transfusions.
''Our son is in much better condition after the transplant, it has been remarkable. Stem cell storage is so valuable even though it is something that you hope you will never need, like insurance. In our case we did need it and we are incredibly glad we made the decision to store the cord blood in the first place, otherwise our family's future would be very different'' said Zayed's father.
Kenneth R. Cooke, MD, Director of the Pediatric Blood and Marrow Transplantation Program at Johns Hopkins University School of Medicine said: '' I would always recommend families to store their child's cord blood whether they know of any possible health issues or not, as it can be used in the future for theirs and possibly other family members' benefit."
Mai Ibrahim, CellSave Arabia's Lab Director and Head of Quality: "It is such a great honour to be working in a field that saves lives and the Dubai facility reflects our desire to be the best. We are trusted with families' valuable stem cells so it is absolutely essential that we ensure each sample is processed, stored and released successfully. There is no room for error."