当前位置
Amniotic Membrane of the Placenta – Trials
八月 2017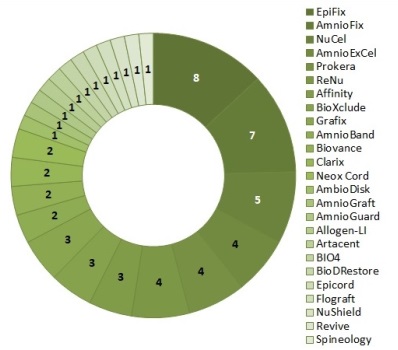 In this article we link to and describe a free download of all clinical trials of AMP products. Previously, we created a free download of all AMP products, courtesy of Russ Schweizer at AmnioChor. Our newsletter from Sept 2016 ran the first article of a three part series describing current products made from the amniotic membrane of the placenta (AMP), as well as the market and regulatory environment for these products.
We have searched in ClinicalTrials.gov for trials of the 111 AMP products that were known to us as of May 2017. We found 61 trials for 25 of the 111 products. While only 23% of these products have been tested in trials, the number of trials per AMP product ranged from one to eight. The top three products in trial testing are EpiFix from MiMedx Group (8 trials), AmnioFix also from MiMedx (7 trials) and NuCel from NuTech Medical (5 trials). Figure 1 is a doughnut chart of the number of trials per product.
Bear in mind that all 111 AMP products in this report have been on the United States market for sale and use, regardless of whether or not they have undergone clinical trials. In addition to these trials, some products are also the focus of retrospective studies and case reports.
The 25 AMP products that have clinical trials currently belong to 14 companies. Many of these products were launched by a company that was subsequently acquired. The pace of mergers and acquisitions in the AMP marketplace is rapid. For example, the first AMP product Prokera was launched by BioTissue in 2005, but is now part of a portfolio of at least 9 AMP products that are owned by TissueTech. Another example, Integra LifeSciences has acquired both AmnioGenix and Derma Sciences and now owns at least 13 AMP products.
Figure 2 is a pie chart of the number of trials per company. The slices are color coded to match the company logo colors, which are remarkably similar shades of blue and green for many of the companies in this market. The three leading companies in trials of AMP products, each with twice as many trials as the competitors that come after them, are MiMedx Group (16 trials), NuTech Medical (13 trials), and TissueTech (10 trials).
We estimate that most of these clinical trials are testing AMP products that do not contain viable (living) cells. It was not possible for us to sort the AMP trials according to whether or not the products contain viable cells; there is no accreditation of these products and no way to know which are viable except to review manufacturer claims. We could not even sort the trials according to manufacturer claims because, like product ownership, product descriptions frequently change. A few manufacturers have explicitly staked claims to viable cells in their AMP product. One such example is Grafix from Osiris, described in a companion article.
It is remarkable that dozens of clinical trials are testing the efficacy of AMP products that probably do not rely on the action of living cells. Academics are also researching whether the presence and persistence of living cells is actually necessary to achieve a healing effect. We believe this is a very interesting development and we hope to eventually see comparisons of the efficacy of these products.