現在地
Henrique was Saved by his Own Cord Blood
10月 2019
This photo of Henrique was taken by the river, in Lisbon, Portugal, a few days after he was discharged from the hospital. Henrique is in remission from severe aplastic anemia following a stem cell transplant with his own umbilical cord blood. It was the first time that autologous cord blood was used to treat aplastic anemia in Portugal.
Henrique's mother says, "Fourteen years ago, when I was pregnant with Guilherme, a family member told us about stem cell cryopreservation and Crioestaminal. People were starting to talk about this option in Portugal, but we found the idea interesting mainly because science is evolving so quickly and we didn't know what the future held. It was a different health insurance."
"When Henrique was born 9 years later, we decided to save the cells again, not only for the sake of equality between our children, but also because we continue to believe that the future of some areas of medicine can pass through stem cells. Both pregnancies proceeded normally and without any problems, and both boys were born and raised healthy, so nothing made us predict Henrique´s disease."
Aplastic anemia is a rare and serious disease that occurs when the patient's bone marrow fails to produce enough blood cells, causing anemia, bleeding, and infections. Most of the time, the cause is unknown. It is suspected that aplastic anemia can be triggered when the body over-reacts to an infection, and develops an auto-immune attack on the bone marrow. There are only 2-7 cases of aplastic anemia per million people in a year. When aplastic anemia does develop, the only way to stop it is to reset the immune system with a stem cell transplant.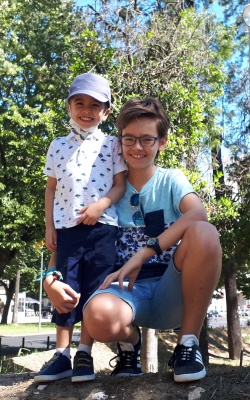 Henrique is a typical toddler who likes dinosaurs, building games, and superheroes. He also likes to watch TV, especially Paw Patrol. Last winter, when Henrique became very sick with aplastic anemia, he was first hospitalized at Dona Estefânia Pediatric Hospital in Lisbon. In preparation for his transplant, Henrique was transferred to the Lisbon Instituto Português de Oncologia (IPO), where he underwent chemotherapy.
Henrique's cord blood was the 10th sample released by Crioestaminal for the treatment of a Portuguese child. Crioestaminal is the most experienced Portuguese laboratory in the release of cord blood samples for the treatment of various diseases.
The transplant took place at IPO on 5 April 2019, and afterwards Henrique's white blood cell count and other hematological parameters began to recover rapidly. Henrique was discharged from the hospital within a month after the transplant, but he is still followed closely by his medical teams at IPO and the pediatric hospital. The doctors are very pleased with Henrique's clinical evolution and consider the outcome of his transplant gratifying.
The second photo taken in summer 2019 shows Henrique, age 4, with his 13-year-old brother Guilherme. Henrique often wears a mask in public places to protect him from germs while his immune system is rebuilding.
Henrique's mother says, "Luckily we made a good choice in cryopreserving stem cells."