当前位置
Americord Launches the Gravity Stand™
八月 2014
Photo shows a technician harvesting blood from the placenta by the traditional ex utero technique.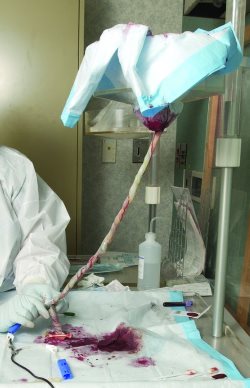 Americord Registry, a leading cord blood banking company based in New York City, has made major strides in addressing one of the major limitations of cord blood banking: the relatively low volume of stem cells that are typically collected from cord blood. A typical cord blood collection generally harvests enough stem cells to treat a patient who weighs up to 65 pounds. This volume of stem cells may be used to treat a patient over 65 pounds as a last resort, but these transplants have a much lower success rate than transplants containing an appropriate number of stem cells.
To help increase the volume of stem cells that can be harvested from cord blood, the CEO of Americord, Martin Smithmyer, and its Medical Director, Robert Dracker, MD, MHA, MBA, have developed Cord Blood 2.0™.
Soon to be available from Americord, Cord Blood 2.0™ uses a combination of best practices and an innovative collection device to harvest and preserve up to twice as many stem cells as the cord blood industry median of 470 million TNC as reported by Sun et al. 2010 in the journal Transfusion.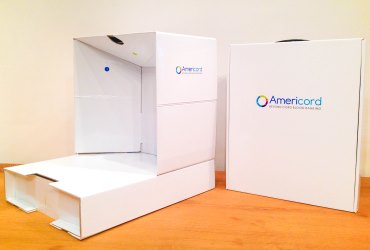 Cord Blood 2.0™ utilizes the novel proprietary and patent pending Gravity Stand™, which secures the placenta in the ideal position for optimal gravity-assisted drainage of cord blood.
"Cord Blood 2.0™ enables families everywhere to save a significantly larger amount of stem cells from their baby's cord blood", said Smithmyer. "By introducing this technology, we are hoping to expand the universe of patients who can benefit from stem cell therapies and increase the instances of successful cord blood transplantation treatments".
Americord is the first private cord blood banking company to offer clients an enhanced cord blood collection method using a disposable and portable gravity collection stand. Public cord blood banks have been using a collection stand for some time, and Americord has adapted and improved this collection method. Collection stands provided by public cord blood banks are located in designated collection rooms within the hospitals that are associated with public cord blood banks. This means that a very limited number of patients have access to the benefits of a gravity-assisted collection. The Gravity Stand™, which can be used virtually anywhere the doctors deem to be appropriate, eliminates the need to transfer the placenta and umbilical cord to a specified collection room.
The Gravity Stand™ is used for ex-utero cord blood collections, which take place immediately after both the baby and the placenta have been delivered. If the doctor chooses to first perform an in-utero cord blood collection (prior to delivery of the placenta), he or she can still use the Gravity Stand™ to harvest additional cord blood from the placenta once it is delivered.
In addition to enabling doctors to perform gravity-assisted cord blood collections in a more simple and intuitive way, collections involving the Gravity Stand™ take place away from the area directly surrounding the mother who has just given birth. This greatly decreases the chance that the sample will become contaminated and have to be discarded.