You are here
StemCellCare Cord Blood Insurance
May 2022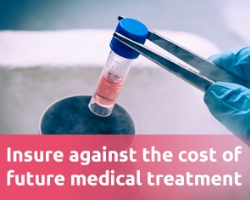 StemCellCare insurance was created for parents that are storing the cord blood of their newborn child, should they ever need their stored cells for an appropriate treatment. This insurance policy is only available in partnership with selected cord blood banks (see details below). The insurance policy will pay the family a lump sum, in the event that the insured child, or the child's biological siblings, need to use their stored stem cells for an approved treatment. The StemCellCare policy covers about 80 medical diagnoses where a Hematopoietic Stem-Cell Transplantation (HSCT) is an appropriate treatment.
StemCellCare insurance can give families peace of mind and flexibility with a lump sum contribution towards medical care and associated costs. By providing a lump sum benefit amount, rather than a traditional insurance product that reimburses medical expenses as they are incurred, StemCellCare insurance ensures that the parents are in control of making the decisions that they think are best for their family. For example, parents may decide to seek treatment abroad, which would not be covered by traditional private medical insurance.
Millstream Underwriting Limited (trading as StemCellCare) are responsible for the underwriting and distribution of StemCellCare insurance in the UK, which is underwritten by certain underwriters at Lloyds of London1,2. Millstream is the the Accident & Health Insurance arm of the Nexus Group. Nexus are a managing general underwriter (MGU), meaning they have underwriting authority as well as the ability to easily work alongside other UK underwriters. Driven by talent and innovation, Nexus is now a global business represented in nine countries and handling over £320 million in gross written premiums. They have over 30 underwriting partners and 275 employees.
Three major cord blood banks in the UK currently offer StemCellCare insurance. Biovault Family has purchased StemCellCare insurance on a group basis, covering all new customers for their first year of storage. Future Health Biobank and Cells4Life offer cover on a voluntary basis, informing customers of the availability of this insurance that could be invaluable should a family ever have to withdraw their cells for an appropriate treatment.
The StemCellCare team aim to be flexible and innovative when it comes to partnering with stem cell biobanks, in the knowledge that different customers may require different benefit amounts. All claims are referred to an Independent Panel of Medical Experts - professionals with many years of experience in this field of stem cell therapies. They review the claim to ensure that customers are treated fairly.
To find out about working with StemCellCare, please contact the email addresses below:
james.fisher@futurefamily.care
james.cotton@futurefamily.care
Footnotes
StemCellCare is a trading name of Millstream Underwriting Limited which is authorised and regulated by the Financial Conduct Authority, FRN: 308584. Registered in England and Wales number: 3896220. Registered office: 52-56 Leadenhall St, London EC3A 2EB.
StemCellCare Limited (FRN: 967339) is an Introducer Appointed Representative of Millstream Underwriting Limited.