You are here
The Next Blockbuster "Drug" in Women's Health
December 2015
What if there was a blockbuster class of women's health drugs that was proven effective in helping women both avoid pregnancy and achieve pregnancy? Even better, what if these drugs could be used to help diagnose and truly treat a range of women's health issues, everything from abnormal bleeding to infertility, from polycystic ovarian syndrome to recurrent miscarriages? More importantly, what if women could use this class of drugs throughout their reproductive lives, from early adolescence through menopause, without the fear of any medical side effects as is commonly seen with contraception?
You would probably expect that your physician or healthcare provider would be knowledgeable about this class of drugs and would routinely offer them to women. However, in reality only 3-6% of physicians1,2,3 have accurate knowledge about modern Fertility Awareness Based Methods (FABMs) of family planning. The majority of doctors do not discuss FABMs with women who may be interested in using them for family planning or to monitor and manage their reproductive health.
What are FABMs and why don't doctors offer them to patients?
• Fertility Awareness Based Methods (FABMs) are drug-free forms of family planning that enable a woman to use daily observations of physical signs and symptoms and/or algorithms to identify when she may be fertile.
• Did you know a woman is only able to get pregnant about 3-6 days each cycle? Couples can use this information about the woman's potential fertility to time sexual intercourse according to their desire to avoid or achieve pregnancy.
• Studies show that the typical unintended pregnancy rates of modern FABMs are comparable to those of commonly used methods of birth control, such as the pill or the Depo shot, and they are more effective than condoms.
• Furthermore, for those couples that use these methods to achieve pregnancy, studies show that they can help couples conceive in about half the amount of time.
The information that women gain from charting fertility signs can also be used to monitor their reproductive health and to diagnose and manage a variety of health problems while working with a specially trained physician. Unfortunately, doctors do not typically offer these methods to patients because they themselves are not knowledgeable about them. However, FACTS is here to change that.
FACTS, the Fertility Appreciation Collaborative to Teach the Science, was founded in 2010 to educate our healthcare colleagues about FABMs "using medical evidence so they may empower women and engage men to appreciate and care for their fertility". There is a real need to share this information with medical professionals as up to 60% of women would be interested in using FABMs, but less than 10% of physicians are knowledgeable about them1,2,3. In fact, many health care professionals do not even realize there is more than one FABM!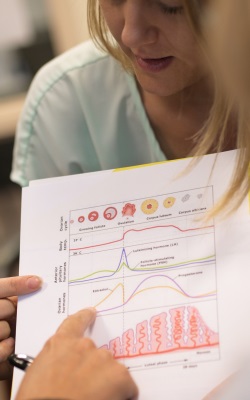 There are actually 5 different types of FABMs:
Cervical fluid methods
Sympto-thermal methods
Sympto-hormonal methods
Calendar based methods
Lactational Amenorrhea Method (LAM)
Each of these FABMs have solid evidence to support their effectiveness for preventing pregnancy and some also have strong evidence in helping couples achieve pregnancy. Additionally, with some methods, specially trained health care clinicians can use the information gleaned from the woman's chart to more accurately diagnose and treat medical issues.
Not only are these methods effective and versatile, they are also cost-effective and free from any medical side effects. Once a woman learns how to chart her cycle, ideally from a trained instructor, she can use these methods throughout her reproductive years, potentially saving a significant amount of money over time. Also, though the oral contraceptive pill is the most widely used form of birth control, 65% of women discontinue it because of adverse effects. However, since FABMs are hormone free, there are no medical side effects, which appeals to many women.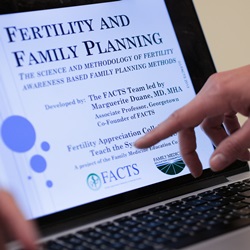 If you are a physician or healthcare provider who is interested in learning more about these methods, we invite you to explore our website for more resources, including information about how to become trained in these methods yourself! To educate our colleagues, FACTS has published a review of all of the research on the modern methods, created patient-centered resources to aide medical professionals discussion of FABMs, and created an approved Continuing Medical Education (CME) presentation for health professionals across the country to learn more about FABMs.
FACTS is committed to improving the reproductive healthcare choices for women and their families, by being the number one educational resource for physicians and other healthcare professionals about how FABMs work, their effectiveness for family planning, and the positive impact they can have on women's reproductive health. Please visit us at FACTSaboutfertility.org
References:
Stanford JB et al. 1998. Women's interest in natural family planning. Journal of Family Practice 46(1):65-71.
Leonard CJ, Chavira W, Coonrod DV, Har KW, & Bay RC. 2006. Survey of attitudes regarding natural family planning in an urban Hispanic population. Contraception 74:313-317.
Choi J, Chan S, &s; Wiebe E. 2010. Natural Family Planning: Physicians' knowledge, attitudes and practice. J Obstet Gynaecol Can 32(7):673-678.