You are here
Can I have delayed cord clamping and still collect cord blood?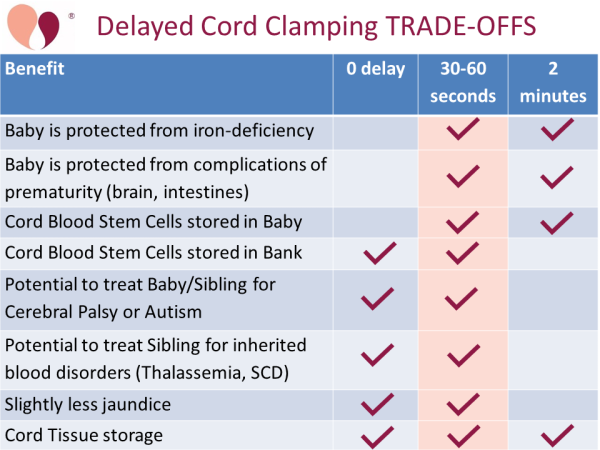 Yes, you can have the best of both worlds, but only if you keep the clamping delay under one minute. The goal of delayed cord clamping, in full term healthy births, is to allow some of the blood in the umbilical cord to enter the newborn and boost the baby's blood volume and iron supply1,2. This has some benefit for the baby, but it reduces the amount of cord blood that can be banked for the future health needs of the baby, the baby's siblings, and the baby's extended family.
Studies have shown that within the first minute after a healthy birth, the baby receives about 80% of the blood that will return from the umbilical cord, while at the same time the volume of cord blood that can be collected for banking is cut in half3-5. To delay any longer gives little additional benefit to the baby, but prevents cord blood banking altogether.
Medical societies of obstetricians and gynecologists do not recommend delaying cord clamping by more than a minute6-11. The World Health Organization (WHO) is in favor of longer delays because iron deficiency is a serious problem in poorer nations, for example as of 2021 the prevalence of anaemia among young children in Africa was 60%12,13. Midwives tend to be in favor of long delays, and advocate to "wait for white", which means that the umbilical cord turns white because there is no blood in it14.
It is important for parents to make a decision about cord clamping time in advance of the birth, and talk to their healthcare provider clearly about their preferences. This Foundation has communicated with numerous parents who put a lot of effort into picking a cord blood bank, only to find that they did not have enough cord blood to bank, because at the time of delivery the responsible person waited too long before clamping the umbilical cord.
If you have an older child that needs cord blood for therapy, it becomes important to get a good-sized cord blood collection. Some situations where this might occur are an older sibling with Thalassemia, or an older sibling with Cerebral Palsy. In this case, parents should make certain that there is some one present at birth that understands the importance of the cord blood collection and has the necessary phlebotomy training to perform the collection correctly.
Donations to public cord blood banks must exceed a volume threshold in order to qualify for storage. This threshold is high, so that it is almost impossible to delay cord clamping and still collect enough cord blood for the donation to be accepted.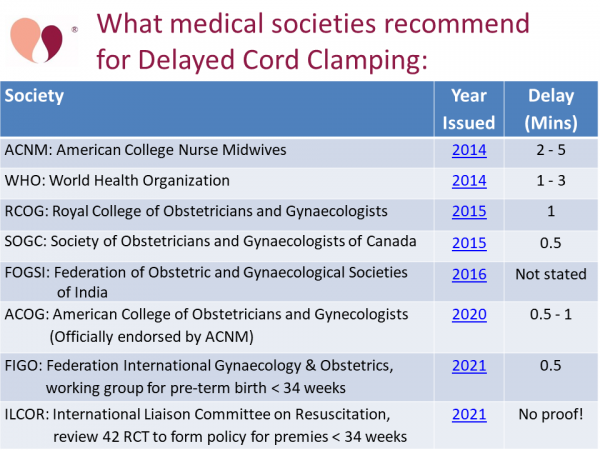 Additional Resources
References