You are here
Family Bank: Cryoviva Thailand
About
Cryoviva (Thailand) Ltd. and its group of companies are leaders in Southeast Asia for biobanking and therapy services with cord blood and birth tissues. Cryoviva is the first & only private stem cell bank in Southeast Asia to hold AABB accreditation (Association for the Advancement of Blood & Biotherapies) for both cord blood banking and somatic cells banking (this covers extraction of MSC from birth tissues). Cryoviva provides professional services for the collection, processing, cell proliferation, testing, and storage of cells from umbilical cord blood, umbilical cord tissue, amnion tissue from the lining of the placenta, and adipose (fat) tissue from adults. Cryoviva adheres to the highest certified standards to guarantee customers receive high quality and truly safe stem cells for rejuvenation, regenerative medicine, and aesthetic applications to elevate their quality of life.
Labs and Locations
Bangkok Office: 75/66,67 Ocean Tower 2, 41st Floor, Soi Sukhumvit 19, Bangkok, 10110 Thailand
Laboratories of Cryoviva and Reviva Cell (45 minutes from central Bangkok): 35/8 Moo 4, Tambol Khunkaew, Amphur Nakornchaisri, Nakon Pathom 73120 Thailand
Business Experience
Cryoviva (Thailand) Ltd. was established with its own laboratory since 2007, supported by the Thailand Board of Investment (BOI). Cryoviva has processed cord blood since 2008 using USA-patented technology, has been certified by ISO9001 since 2009, and accredited by AABB for cord blood activities since 2010. Cryoviva networks with all Thailand registered public and private hospitals and clinics as well as medical and academic institutions in Thailand focusing in the fields of health, wellness, and regenerative medicine.
Reviva Cell (Thailand) Ltd. was established in 2017 as a member of the Cryoviva Group under support by the Thailand BOI. Reviva Cell specializes in culturing Mesenchymal Stromal Cells (MSC) from the Wharton's Jelly of umbilical cord tissue by the "explants method" using USA-patented technology. Reviva Cell is accredited by ISO9001 and is the only stem cell bank in Southeast Asia that is accredited by AABB for Somatic Cell Activities. This accreditation covers many tissue types (Cord Tissue, Amnion Tissue, Adipose Tissue) and multiple tissue activities such as collection, culturing, testing, storage and distribution. (Click to expand timeline)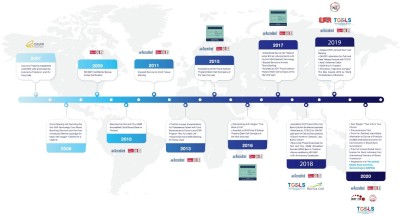 Cryoviva (Thailand) Ltd., has been recognized and awarded by international organizations:
The Best Stem Cell Company in Thailand from Frost & Sullivan, USA 2015 – 2017
Quality Choice Prize in Gold Category in 2019 and Quality Achievement Award for Best Practice in 2022 from European Society for Quality Research (ESQR), Switzerland
The BIZZ Award in an Inspiration Company Category in 2019 from World Confederation of Business (WORLDCOB)
The Asia-Pacific Bioprocessing Excellence Award in 2021 and 2022 from IMAPAC, Singapore
Registration of both companies:
Registered with ICCBBA for ISBT128 international standard for product labeling system
Registered with USFDA as a Human Cell and Tissue Establishment
Registered with ISSCR as an institutional membership
Collection Kit
Cryoviva provides three separate types of Collection Kits: Cord Blood, Umbilical Cord/Amnion Tissue, and Adipose Tissue. The materials required for collection are contained within a disposable strong cardboard box having the company's information printed on it, along with important warnings to comply with cell therapy standards such as "Do Not Pass Through X-Ray Device", "Keep at Room Temperature", "To Avoid Cord Blood Unit Rejection, Volume is Important in Each Collection".
The standard Cord Blood collection bag is specifically manufactured for cord blood collection, has a needle guard to cover the sharp end of a needle, and packed is in a sterile plastic bag. Other items included are maternal blood sample tubes, labels, sterile alcohol pads as well as "cord blood delivery information form", "maternal blood collection form for hemo-dilution" and instruction for cord blood collection both for "Vaginal and C-section Deliveries" as well as instruction for both "In-Utero and Ex-Utero Collection".
Cord/Amnion Tissue and Adipose Tissue collection kits also have unique designs for proper collection of tissues, with antibiotic media in transportation tubes and temperature maintaining materials to ensure high quality of collection and transportation with standard compliance.
Transportation container
The Cord Blood collection kit also contains a 95 kPa biohazard bag to ensure safe transportation under IATA UN3373 Product Categories. A gel pack and aluminum foil pouch have been provided in all collection kits which will help to maintain the temperature of the cord blood unit and other collected tissues at a temperature between 4-25 degrees Celsius for about 4 hrs (local short distance transportation). If the transportation time will take more than 4 hrs. (long distance transportation), the collection kits will be packed in a validated transportation box with appropriate amount of ice-packs to maintain temperature at 4-25 degree Celsius throughout transportation time. The temperature during transportation will be recorded by a certified temperature data logger.
Shipping Info
Shipping of all collections are arranged through company-owned transportation, contracted air cargo, or internationally accepted courier companies. Transportation from the hospital to the facility is free of cost within Thailand and at actual cost from overseas.
Processing Method
The cord blood sample will be processed using manual cell separation by the sedimentation method, accomplished by adding HES and spinning in a centrifuge. For tissue samples, the cord/amnion/placenta/adipose tissue will be manually processed by the "explants" method according to a published protocol (USA patented), in compliance with ISCT (International Society of Cell & Gene Therapy) guidelines. The mesenchymal stromal cells (MSC) that grow out from those tissues in culture will be collected at passage three ("P3") to maintain quality and safety for further clinical applications. The final products are tested for characterization to ensure cell purity as per cellular therapies standards and guideline.
Components Stored
For cord blood units, parents are provided with a certificate and lab test results of cord blood stem cells and maternal blood. The cord blood unit and stem cells will be tested for the volume of cord blood collected, ABO and Rh typing, Total Nucleated Cells (TNC) count, viability (%), Hb electrophoresis. The maternal sample will be tested for ABO and Rh typing, Infectious Disease Markers such as Syphilis, HBV, HCV, HIV, CMV, and NAT for HBV, HCV, and HIV.
The buffy coat holding white cells and stem cells plus 3 segments attached to the units are stored as well as an aliquot sample of maternal serum and cord blood. The red blood cells and plasma components of the unit will be kept at 4 degrees C for at least a month for additional testing if required before being discarded.
For cord/amnion/placental tissue, there are two options for the parents: One is to immediately cryopreserve the tissue after collection, the second is to grow Mesenchymal Stem Cells from cultures of the tissue and then store the cells. The latter is more desirable due to the much higher number of stem cells derived from the family's limited valuable source and is also better in terms of economic production scale.
Storage Method
For Cord Blood, the final product goes into two compartments of a freezing bag, which is encased in an overwrap bag and then a certified ultra-cold-resistant aluminum cassette. For cord/amnion/placental tissue services, the final products are stored in cryovials. In either case, the unit's temperature is then slowly decreased with the use of a Controlled Rate Freezer and finally stored in the vapor phase of a cryogenic nitrogen tank. The units which are awaiting results of testing for Infectious Disease markers will be placed in quarantine status before release to the general inventory.
Licensing & Accreditation
Cryoviva (Thailand) has been
Accredited by AABB for Cord Blood Activities to the international cellular therapy standard.
Certified by ISO9001 for General Quality Management Practices
Registered as a Human Cell and Tissue establishment with USFDA
Registered for Company Certification with the Ministry of Commerce
Reviva Cell (Thailand) has been
Accredited by AABB for Somatic Cells Activities to the international cellular therapy standard.
Certified by ISO9001 for General Quality Management Practices
Registered as a Human Cell and Tissue establishment with USFDA
Registered for Company Certification with the Ministry of Commerce
Clinical Experience
Under Thailand regulations, a private company can only provide private cord blood banking. This limits the opportunities to release units for transplant. Cryoviva (Thailand) Ltd. has released a cord blood Unit for a sibling transplant to treat Thalassemia. The outcome was successful under project HELPBEST. Cryoviva also has partnerships with clinics that offer regenerative medical therapies using Mesenchymal Stromal Cells.
Insurance
Cryoviva (Thailand) Ltd. offers 20 years insurance of financial support if a baby retrieved their own cord blood for transplantation of themselves.
Additional insurance can be purchased to cover searching for and obtaining cord blood from a public bank.
Storage fees paid in advance are held in an escrow account.
Additional insurances have been provided in case of any damage, loss, or lower quality of the stored stem cells at the time of transplantation. The offer terms cover both matched replacement or financial compensation.
Community Service
Discounts to medical doctors and nurses.
Support clients' family to search for cord blood donation unit in partnering networks, if required.
Prices
For current prices, please visit https://cryoviva.com/en/product-and-service/price/
Total cost = enrollment + courier + processing + storage + hospital fee + overhead
1st year fee includes 1st year of storage
Storage alternatives are pay annual fee or pay long term (options for 10 years / 20 years / 30 years/ baby's lifetime)
Discounts for pre-paid storage
Payment plans available upon request
Additional Services
Storage of umbilical cord tissue (options for frozen tissue or cells separated from tissue)
Storage of amnion tissue (options for frozen tissue or cells separated from tissue)
Storage of placenta extract
Storage of stem cells from adipose tissue of adults
Phone:
Address:
75/66,67 Ocean Tower 2, 41st Floor, Soi Sukhumvit 19, 10110 Bangkok, Thailand
Email