You are here
Family Bank: CellSure
About
CellSure is a unique bank that stores stem cells from the placenta as an alternative to cord blood banking. Cellsure relies on the fact that a large proportion of the baby's blood remains in the placenta after birth. By processing the placenta to release stem cells, Cellsure offers parents storage of the same stem cells that are in cord blood, as well as additional stem cells that are found in the placental tissue. Cellsure does not separately collect and store blood from the umbilical cord.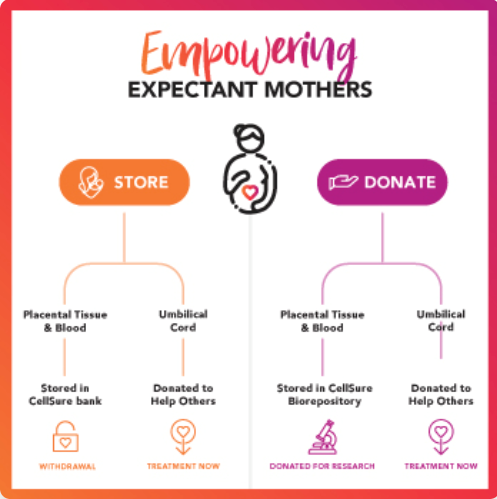 Labs and Locations
Cellsure is a low-profit limited liability company (L3C) that is located in the biotech park at the University of Utah campus in Salt Lake City: 650 Komas Drive, Suite 107, Salt Lake City, UT 84108
Business Experience
Not only does CellSure have a unique cell banking concept, CellSure also has a unique business model: Parents that bank with Cellsure are offered a choice between donation of their birth tissues at no cost, or family storage of their birth tissue stem cells. With either choice, all mothers that participate with CellSure donate their umbilical cord tissue. Thanks to this fully integrated public/private banking model, CellSure can afford to offer private storage of newborn stem cells at a low price. All mothers that participate with CellSure must pass a full medical screening, because every participant is a donor. The CellSure vision is to build a biorepository that is accessible to every child across the nation.
Collection Kit
The CellSure kit comes with everything your healthcare provider will need, as well as instructions for use. The placenta and umbilical cord are triple bagged before being shipped to the CellSure laboratory.
Transportation container
The Cellsure kit for collection and shipping contains an active cooling system, not just insulation. Once the kit is packed and the cooling system is triggered, it will keep the contents cooled to the appropriate shipping temperature for 48 hours.
Shipping Info
Once the expectant mother completes the enrollment process, the CellSure collection kit is shipped via FedEx to their home. The expectant mother is responsible to take the kit with her to the facility where she will give birth. Following the delivery, the new mother (or partner) contacts CellSure who will arrange for a medical courier to collect the kit. The medical courier will ensure the kit arrives at the CellSure laboratory.
CellSure Path of Hope | Instructions for Parents Donating or Storing Birth Tissue Stem Cells
Processing Method
CellSure fully processes the placenta to release stem cells; they do not store whole placenta or pieces of tissue. During pregnancy, the placenta serves as a mediator between the mother and baby, and as a result there are parts of the placenta that are considered to be maternal tissue and other parts are fetal tissue. CellSure only stores cells from the fetal, or baby's side, of the placenta. CellSure processes most of this fetal side of the placenta, not just a little piece.
The CellSure processing method is purely mechanical, the stem cells are never exposed to enzymes. CellSure releases stem cells and cryopreserves them immediately in their "native" state, they are not cultured through passages that may reduce their potency.
Components Stored
CellSure stores a mixture of stem cells that are found in the placenta. These include:
Blood-forming (hematopoietic) stem cells like those found in umbilical cord blood
Endothelial stem cells from the lining of blood vessels
Mesenchymal stem cells (MSC) like those found in umbilical cord tissue
Epithelial stem cells from the amniotic membrane that acts like the skin of the placenta
Storage Method
CellSure stores placental stem cells in a 25cc cryogenic storage bag with 5 compartments. These compartments enable parents to access the cells multiple times for multiple therapies. The bags go into final storage in cryogenic tanks that are cooled by liquid nitrogen.
Licensing & Accreditation
The CellSure laboratory is FDA registered and operates to cGMP/cGTP standards
CellSure is compliant with all state regulations on birth tissue donation.
CellSure Provider Insights | Advantages of Donating or Storing Birth Tissue Stem Cells with CellSure
Community Service
CellSure is a low-income limited liability company (L3C). At the same time that CellSure empowers expectant mothers with the choice to Donate or Store from any hospital, CellSure also is pursing the vision to build a biorepository that is accessible to every child across the nation, all without making a profit.
Prices
CellSure charges a one-time processing fee of $1,499 for the first year (which includes: cost of the kit, outbound and inbound shipping, testing and processing, and first-year annual fee). Annual Renewal Storage Fee is $199 per year and starts the second year.
Additional Services
Parents that enroll with CellSure will also receive a free account with MyID, a company that provides a secure on-line account to store all your family medical records.
Phone:
Address:
650 Komas Drive, Suite 107, Salt Lake City, UT 84108